Kate Middleton wore the perfect summer dress at Wimbledon 
And so can you.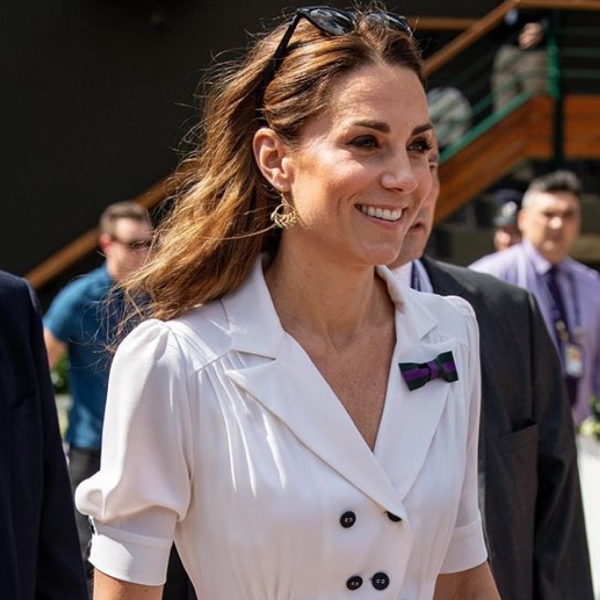 We were all waiting to see what the Duchess of Cambridge would wear to Wimbledon Championship and, as usual, she did not let us down. On her first appearance at the 2019 Wimbledon tournament, Kate Middleton wore the perfect summer dress, a white Flippy Wiggle Dress by Suzannah. Let us tell you why the choice of the Duchess of Cambridge was such a hit among her fans and fashion enthusiasts.
The right colours for Wimbledon
Of all tennis championships, Wimbledon has the strictest rules; the players must wear all white clothes, even down to their underwears! Of course, there's no such dress code for the royal spectator. Nevertheless, Kate Middleton chose a white dress that matched the players' outfits and looked very summery, although science tells us the best summer colour is black.
The right-cut summer dress for Kate Middleton
The white button-up shirt dress made in Italian silk crepe the Duchess of Cambridge wore at Wimbledon is by British label Suzannah. The designer Suzannah Crabb is known for making chic dresses with a vintage feel and classic silhouettes. The cut of this summer dress Kate Middleton wore is utterly flattering; the midi length is elegant and elongates her legs. The trendy puffy sleeves add newness to the otherwise classic model. Additionally, Coco Chanel would have approved of the contrasting black buttons. The belt and plaids on the sides of the waist accentuate the enviable figure of the mother-of-three.
The right accessories to balance her look
To give a bit of contrast to her Wimbledon all-white look, Kate Middleton paired the summer dress with an Alexander McQueen thin black belt with a bow. She added a matching black and purple bow brooch. The Duchess of Cambridge finished her outfit with an Alexandre McQueen Wicca straw clutch. Additionally, she wore black pumps with block heels to walk comfortably on the grass. The result was a chic black and white ensemble that looked very elegant and polished, yet casual enough for Wimbledon.
To learn more about Wimbledon's history and interesting facts, watch the video below:
[fvplayer id="98″]
Wear a white dress this summer like Kate Middleton
Whether you're going to Wimbledon or any other tennis tournament, a picnic, the office or to lunch with friends, the white dress of Kate Middleton is a perfect choice for a chic summer look.
Our editors select independently all products featured on Notorious-mag. However, when you buy through our links, we may get a commission.
The Duchess of Cambridge at Wimbledon. Photo courtesy of Kensington Palace.