18 Just In pieces from The Outnet to buy for next season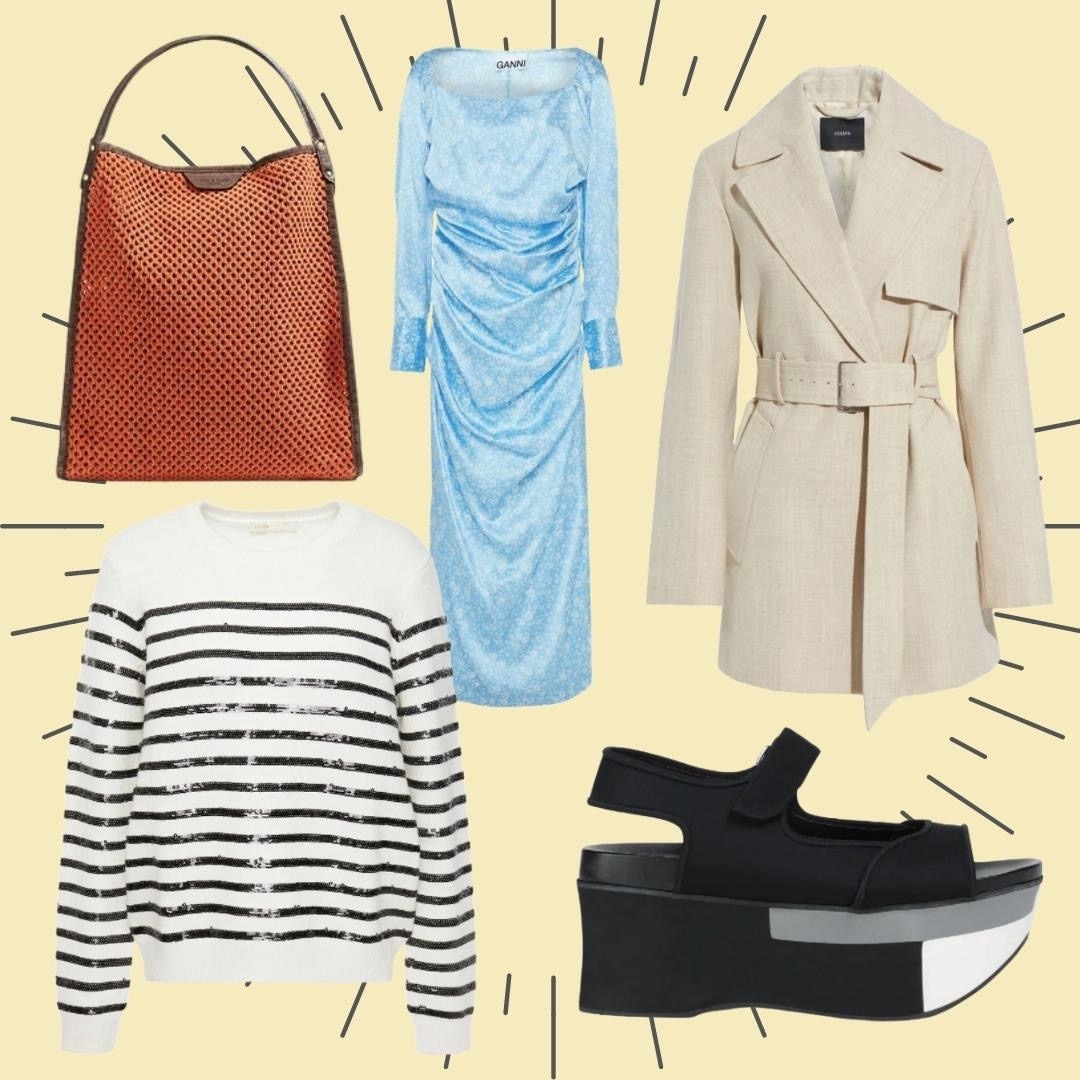 If you're looking for new pieces to update your wardrobe for next season, the giant outlet The Outnet is the go-to address of fashion-savvy fashionistas. That is because you can buy online from over 350 designer brands at up to 70% off. But, of course, it can be daunting to go over their endless list, so we did the heavy lifting for you and narrowed down the 18 best just in pieces from The Outnet. We hand-picked wearable and timeless pieces for your between-season dressing following the Spring/Summer 2022 trends.
Our editors select independently all products featured on Notorious-mag. However, we may get a commission when you buy through our links.

Spring asks for florals

Firstly, let's begin with the obvious; springtime asks for florals. So consider wearing the super flattering Ganni ruched dress. The long sleeves and midi length will keep you warm, and you can start wearing it now by layering a cardigan and oversized blazer. Finish your look with boots or with sandals on warmer days.
Leather mini dress
One of the trends that emerged from the street style at New York Fashion Week is leather, an ideal material for transitional outfits. Ganni's mini shirt dress is fantastic for layered looks; for example, wear it over a turtleneck and with trousers now, and in spring, by itself.
Cashmere vest
This cashmere vest with crystal-embellished buttons is an ace to have in your spring wardrobe. But be careful; the luxurious cashmere is a delicate fabric. So, learn here how to take care of cashmere and other materials to make your clothes last longer.
Short but warm
Micro-skirts like Prada presented at Milan Fashion Week SS22 will invade the streets in spring and summer. So, keep warm and stylish next season with the felt mini skirt we found on The Outnet.
Macramé tote

One of the spring/summer 2022 bag trends, this maxi tote fits all your essentials. Plus, you can carry your tablet in it too. The stylish macramé bag looks at the same time sophisticated and bohemian with an artisanal vibe; hence it will suit any outfit you choose to wear.

On-trend wide-leg trousers

A hot trend for spring/summer 2022, wide-leg pants will be everywhere next season, so we hand-picked these black and white MM6 Maison Margiela pants that have just arrived on The Outnet.

Polished office look for next season

Zimmermann's belted linen trousers in sage green are the style of pants sophisticated women-on-the-go like to wear. They are comfortable, modern, timeless and ageless.
Pair them with a matching blazer by the Australian brand for a fabulous office look, or wear each piece separately.

Bucket bags are back

Bucket bags are back for spring/summer 2022. So, get your minimalist bag from the Scandinavian brand ATP for next season; we found it on The Outnet at 45% off.
Green cashmere
Because we believe in "Buy less, buy better", you can never go wrong with good-quality sweaters in natural fabrics. The street style at Copenhagen, New York, and Milan Fashion Weeks chose bright green as the colour to wear, and we've also seen this hue in most runway shows.

Super wearable jeans

Every now and then, we need a new pair of jeans. Ganni's wide-leg, high-rise jeans are a great option; they are cool yet put together like our favourite Scandinavian girls.

Elevated Bermuda shorts

Just in, the Moschino belted shorts are a find on The Outnet, at 50% off. And, as we told you before, elevated Bermuda shorts are one of the major trends for next season.

Platform sandals

Don't you just love these Marni neoprene platform sandals? They will certainly add an edge and contemporaneity to any outfit from your spring wardrobe. And, of course, add some height for petite women.

Short trench coat

The Outnet has, just in, a twill trench coat that is the perfect outwear for next season. Additionally, the timeless jacket never goes out of fashion, so consider investing in one.

Yellow and orange are the colours in Copenagen

Scandinavian street-style stars chose yellow and orange to shine bright during fashion week. So, we picked a classic button-down shirt in organic linen that looks luxurious and fun thanks to this colour trend.

The Roaring Twenties

The 1920s are still inspiring fashion designers, and fringes are a must for spring and summer. Get extra fashion points with the Gentry Portofino fringed top made in crochet-knit linen.

Oversized blazer

No capsule wardrobe would be complete without a good blazer. A beige twill blazer is ideal for spring when you're tired of your winter coats. You can wear it with the extra-wide trousers trend or over a floral dress, both to go to the office or out with friends. In other words, a new easy-to-wear piece for next season that The Outnet offers at 53% off.
Take your Breton to a party
We love a timeless Breton shirt, especially in spring, and Maje has taken the striped garment to the next level by embellishing sweaters with sequins to add a touch of glamour.