Jessica Chastain, the star of The 355, has a powerful fashion style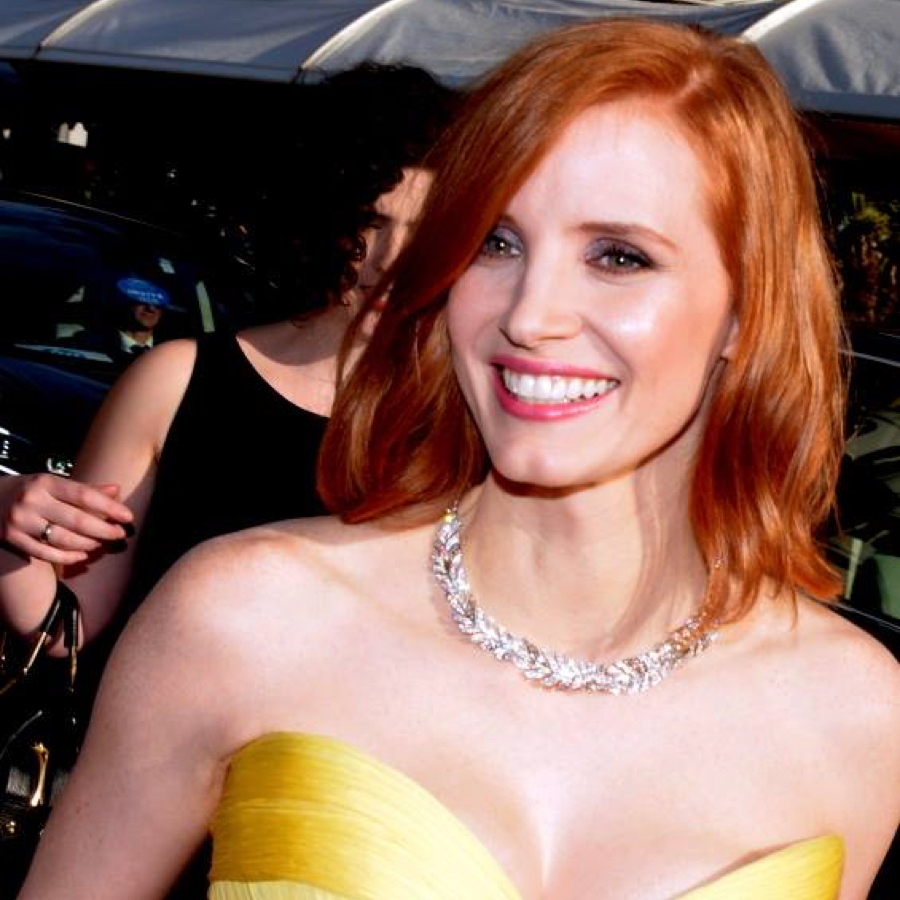 The new bad-ass-women-spy movie The 355 stars the American actress and film producer Jessica Chastain. The globe-hopping action film also stars Lupita Nyong'o, Diana Kruger, Penelope Cruz, and Fan Bingbing fighting off the bad guys. Together, they must recover a stolen data key that can access anything on the internet. Throughout the movie, the five women sport fabulous looks. And, of course, their fantastic jewellery pieces carry hidden cameras and comms in the best James Bond style. So, check Jessica Chastain's powerful style and have a taste of the incredible fight choreographies in the trailer of The 355.
[fvplayer id="372″]
Little-known facts about Jessica Chastain
One of the most sought-after actresses of the past years, Jessica Chastain keeps her private life to herself. But we've managed to put together a list of little known facts about her.
For example, did you know that the actress is married to the Italian count Gian Luca Passi de Preposulo? The Italian aristocrat is a PR Director, previously at Giorgio Armani and now, at the fashion brand Moncler. After dating for several years, the couple married in 2017. The wedding was at his family estate near Venice, the stunning Villa Tiepolo Passi, where they produce prosecco.
But, despite her current success and glamorous life style, things weren't always easy for the Californian mother-of-two. 
She grew up estranged from her father. Her single mother, who had Chastain when she was sixteen, struggled to feed her five children, having to steal food from a local store. Nevertheless, Jessica Chastain showed a resilient style and how powerful she was at a young age. Because her family couldn't afford Jessica's performing arts school, the girl worked there to pay for her tuition. 
The multi-talented Jessica Chastain was part of a dance troupe at the age of 13. Then, she joined her school's drama club. And later, she was accepted into the famous Juilliard acting school in NY, where she received a scholarship funded by no other than the late Robin Williams.  Although she never had the opportunity to meet him, she made sure to send the comedian several Thank You letters.
Jessica Chastain was the first person in her family to ever attend college. It was at Juilliard that she met Oscar Isaac, with whom she later stared A Most Violent Year and Scenes from a Marriage.
As a strong woman, Jessica Chastain advocates for several causes, fighting against discrimination towards women and minorities, ageism, and sexual harassment in the movie industry. For example, she was adamant that her female co-stars you see in The 355 trailer should all receive equal pay. She says she doesn't "want anyone to be denied anything. In terms of a voice, being seen, being acknowledged and valued." And she's also fair, stating that "Right now, as a society, I don't believe we value fathers as much as we should. I think we have to understand that — and this is tough as a woman to say this — the father relationship is just as important as the mother relationship."
Is Jessica Chastain a natural redhead?
You must be asking yourself, is her stunning ginger mane natural? Well, yes. In fact, she was bullied at school as a young girl because of her freckles and vibrant copper hair. As a result, Jessica Chastain struggled academically and didn't graduate from college, but she later got an adult diploma, proving what a strong woman she is. Additionally, when she first started auditioning in Hollywood, people pressured her to dye her hair blonde, but she chose to embrace her natural colour in an empowering move. Time proved her right, and you can admire her famous signature red hair in the movie trailer here above.
Powerful style and Old Hollywood glamour
Considering all the obstacles she had to overcome before becoming an awarded actress, seeing Jessica Chastain on the red carpet is an inspiration for women.
Known for her roles in films with strong women characters like the spy in The 355, the 44-year-old Jessica Chastain shows a powerful fashion style with the bold colours she wears. We usually see her in fabulous red-carpet outfits by luxury fashion houses like Alexander McQueen, Chanel, Louis Vuitton, Zac Posen, Vivienne Westwood, and Givenchy.
The beautiful redhead has a classic style with a glamorous Old Hollywood vibe. Jessica Chastain goes for monochrome looks, either in chic black or powerful bold colours as yellow, red, turquoise, and emerald green. Her makeup, hair, and jewellery follow the same Golden Era fashion. And while she chooses feminine and sexy gowns, they are never too revealing or vulgar like some of the ones we see in gala events.
Title photo by Georges Biard, CC BY-SA 3.0, via Wikimedia Commons.