The basic (not so basic) items I need in my baggage for my next trip 
Travelling in style.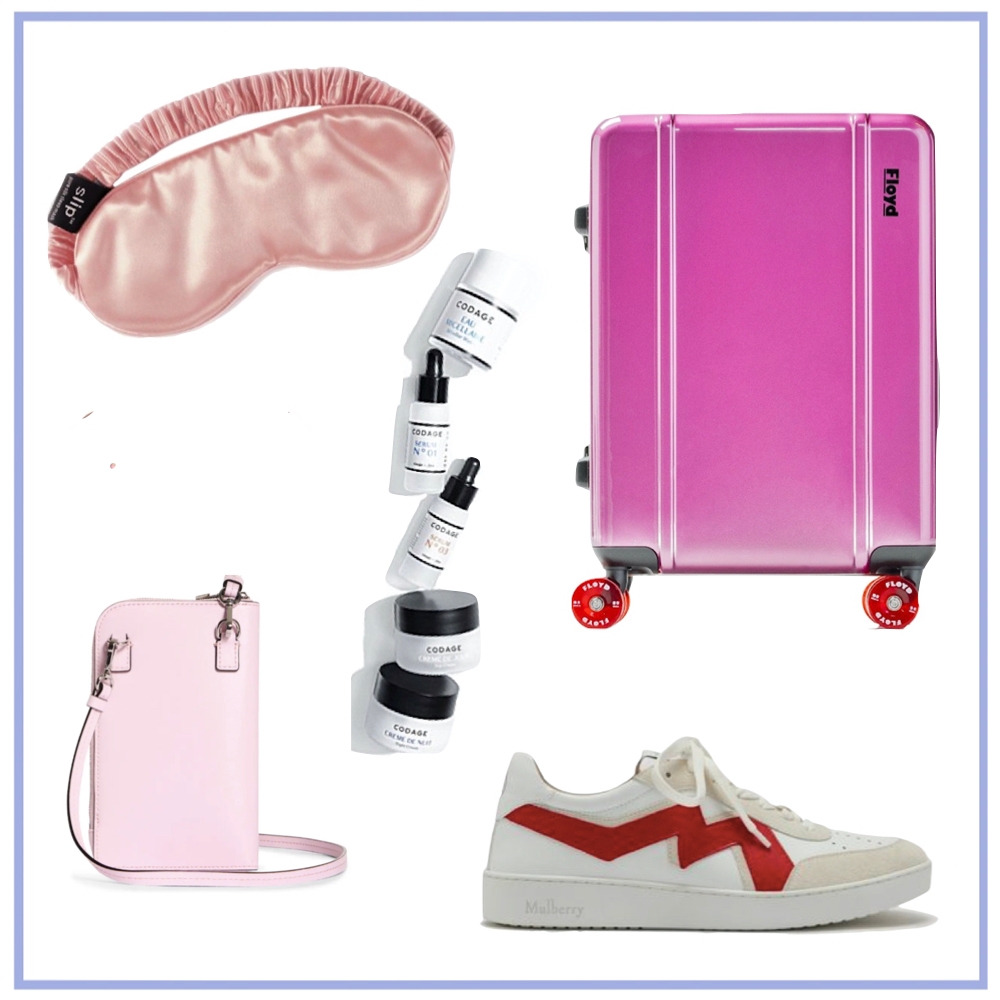 I'm travelling to Paris for a few days before going to the countryside, it is a very short trip so I want to pack clever, taking only essentials items. But because being practical and comfortable doesn't mean being unstylish, here are the basic items that I need in my baggage for a short trip over the weekend and also in my summer vacations.
Skating luggage
Airports are huge, so I need wheeled luggage, of course, because finding someone willing to carry your suitcase might be a tad more complicated! You should choose a suitcase with at least, four, but better eight, in-line skate polyurethane wheels that move in any direction. "Spinners" are easier to manoeuvre and you can do it with the luggage standing straight up. This is less tiring than having to tip a suitcase towards you, especially when carrying heavy items like all the beauty products you need for your trip.
The stylish Floyd hard shell suitcases are made in Germany with excellent quality materials and clever packaging solutions that will make your life so much easier! The bold colours paired with bright red wheels are inspired by the '70s skateboarding culture of the Californian Venice beach. Likewise, this yellow Crash Baggage Icon suitcase is made from pre-dented polycarbonate that is highly resistant to impact; plus, it looks very cool. And finally, we also picked a classic model trimmed with leather and decorated with Michael Kors' signature monogram. All three are cabin versions that meet the regulation size, which makes your trip simpler, but are spacious enough for the basic items you want to take with you.
Jet-setter cellphone
To get my cellphone ready for the trip too, the cute phone bags are absolutely practical items to have. You can hang your phone as a necklace, as we saw at Jaquemus, Valentino, Gucci and Fendi to Prada and Moschino.
These mini bags will leave your hands free while rushing over the gate because once again, you got distracted getting a few items in the free shop before your trip.
Stylish airport shoes
So yes, you have to do a lot of walking in most airports with unending terminals and you need comfortable shoes. But let's not forget style, please.
Mulberry, known for its chic bags, has equally chic sneakers that look beautiful with a clean '70s design. Additionally, the stylish Converse shoes have platform soles, which are one of the shoe trends this year. And you can never go wrong with the sustainable and cool Veja sneakers. The three models are perfect for airport transit and you won't arrive at your destination looking like you've just run a marathon. Plus, you will be able to wear your stylish sneakers during the trip, so it's one item less for your baggage!
On the Road Again
The French beauty label Codage has a ready-to-wear skincare routine perfect for travelling. It contains five items to fight jet lag and basic stress caused to your skin by the changes in temperature and environment during the trip. The On The Road Again set contains micellar water, a serum, a day creme and night cream to nourish and protect your skin
Additionally, I also love AESOP Departure, the set comes in handy containers that are just the right travelling size, to help you come out of the plane looking fresh and radiant. Dr Barbara Sturm's Brightening kit with six items ensures you keep a beauty routine even on a trip. Finally, Dr Jart Ceramidin Travel Set is a good affordable option to take care of your skin during your trip.
Beauty Sleep
And talking about fresh and radiant, nothing beats the good old beauty sleep. Even during short trips, I try to take advantage of the free time ahead to get some basic sleep rest a bit.
To help me fall asleep, I wear the chic Slip Silk eye mask that is made in luxurious mulberry silk and is super comfortable. Similarly, the Holistic Silk Rejuvenating Anti-Ageing Silk Pillow Case and eye mask help delay signs of ageing, including fine lines, wrinkles and facial creasing. The mask, filled with lavender, promotes natural hydration and enhances the effectiveness of your night cream.
Watch the video below to know why coconut oil is among the items I'd like to take on my next trip.
[fvplayer id="203″]