Why is the Vampire Facial so popular and does it work?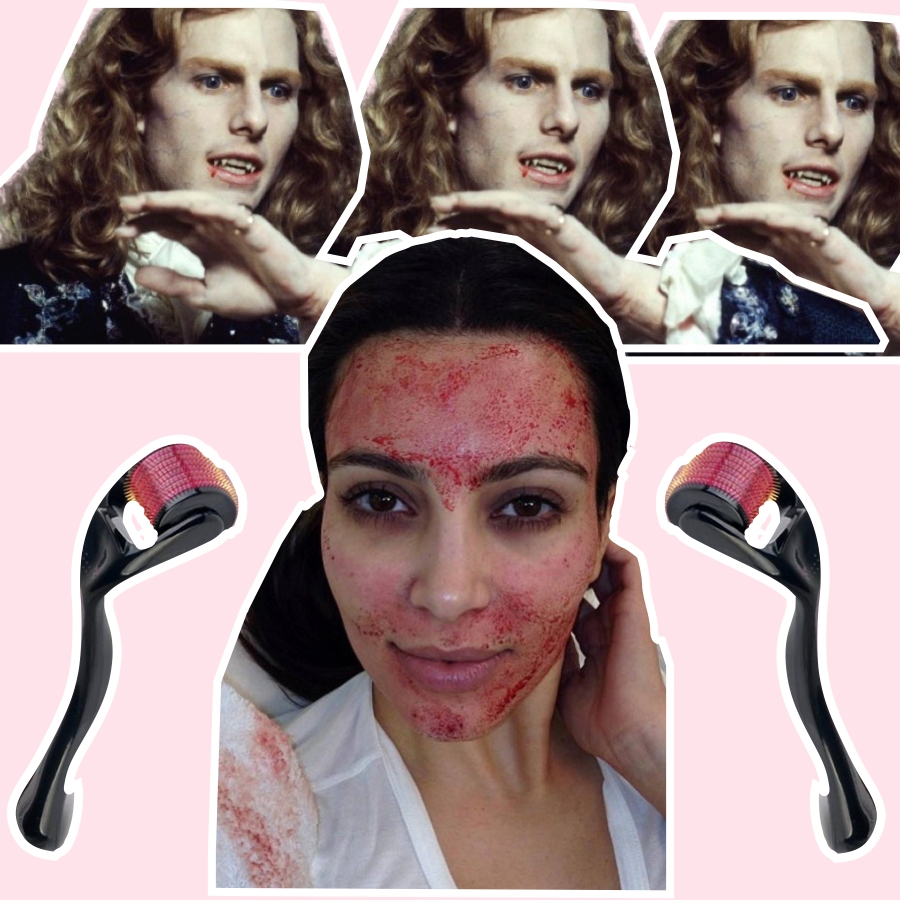 Among all the strange beauty treatments women may try, the Vampire Facial is probably the most popular right now. The scary-sounding name and that Kim Kardashian selfie with the face covered in blood spots doesn't seem to deter celebrities and Instagrammers in search of perfect skin.
What is the Vampire Facial?
First of all, despite its name, the Vampire facial is not a facial; it is a medical procedure. The technique is used to improve skin texture and tone. It also boosts cell turnover and minimizes fine lines. In other words, the method, also known as blood facial, helps to rejuvenate the skin. Basically, it is a combo of microdermabrasion followed by a treatment with PRP (Platelet Rich Plasma) that is extracted from your own blood and is then re-injected into your face or applied topically after microneedling. PRP treatment is said even to promote brows and hair growth.
The mother of Vampire Facial
Dr Barbara Sturm was among the team that discovered the Kobe Procedure. It consists of using blood cells of a patient to jumpstart his healing process. She treats athletes and celebrities in her Dusseldorf clinic and developed a face cream where she mixes each patient's blood. She developed the concept of using your own blood to treat skin problems, giving rise to the beauty treatment that is known today as the Vampire Facial.
Is it the Fountain of Youth?
Microneedling stimulates the production of collagen, promotes shedding and the recycling of epidermis. PRP, on the other hand, is an excellent treatment to help you with acne scarring, wrinkles, melasma and pigmentation. You'll end up with a refreshed and rejuvenated face, but of course, it isn't a miracle Fountain of Youth.
No pain, no gain?
You must be wondering if the Vampire Facial hurts. Well, you know what they say, you must suffer to be beautiful… But thanks God and medicine, we have pain killers and numbing creams to help us have the blood facial without too much pain.
Is it worth the pain?
Ask anyone who's tried PRP treatment, and they will swear by it. Even Kim Kardashian, who did it without pain killers because she was pregnant and said it was so painful she would never do it again, agrees that the results were impressive. The Vampire Facial is a natural treatment that doesn't inject a foreign substance into your body but your own blood. And the results last up to one year. So, if you aren't as afraid of needles as I am, and don't mind a bit of pain, blood and swelling as I do, this could be something for you.
Shall you try this at home?
Because of so many celebrities talking about the fantastic results of the Vampire Facial on social media, microneedling devices are sold faster than hot cakes these days. The rollers with micro-needles make it easier for antioxidants and vitamins in your serum to penetrate the skin. If you want to try it at home, just make sure the roller you buy has the CE certificate and is made in hypoallergenic materials such as surgical steel, silver, gold, titanium. As for the needles, the safest are from 0.2 to 0.5 mm so that you won't need prior anaesthetic. Your skin will become slightly red but it won't hurt and you won't bleed with the microneedling. Last but not least, keep strict hygiene, cleaning your dermaroller with a disinfectant spray or alcohol before and after using it.
Our editors select independently all products featured on Notorious-mag. However, when you buy through our links, we may get a commission.
Ecooking Derma Roller
The roller with 540 needles creates small channels in the skin for your favourite serum. It also stimulates collagen production.
Swiss Clinic Body Treatment
A treatment for firming and toning results. The microneedling roller comes with a serum infused with active ingredients to help improve circulation and firm the skin for a smoother and more youthful-looking skin.
Collistar Hyaluronic Acid Microneedle Filler Patch
The super practical patches convey into the epidermis 700 microneedles of pure Hyaluronic Acid, which dissolve with an immediate and visible filling effect.
Anti-Aging Rejuvenating Kit by Revilo
The rejuvenating kit comes with a device that has a nanochip silicone tip design. Additionally, the kit comes with a complete box of anti-ageing Serum packed with hyaluronic acid, peptides and antioxidants.