Do you know how to layer your skincare products?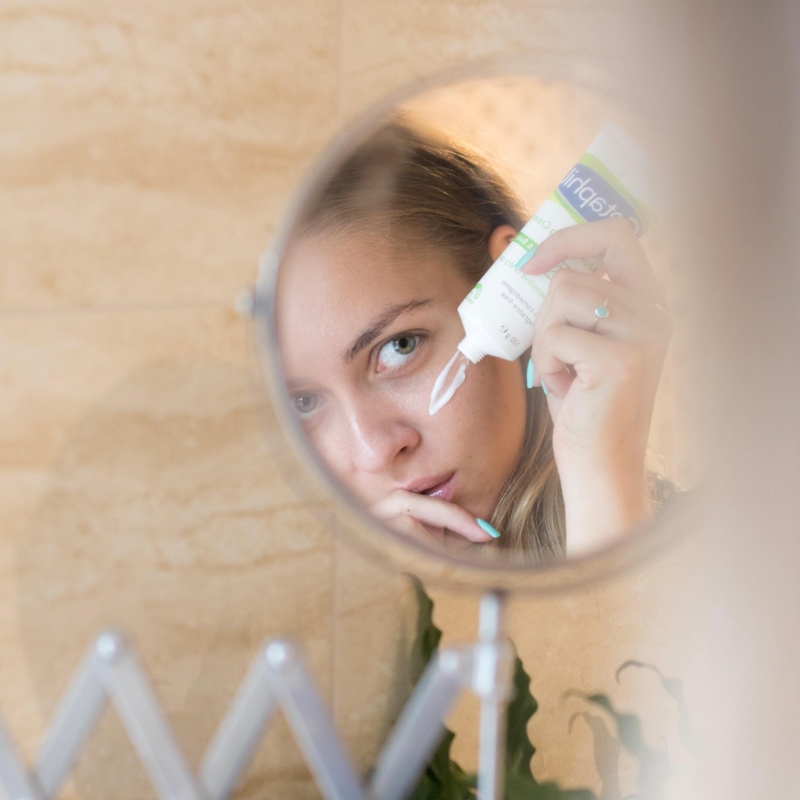 The internet is a wonderful tool, but it can be confusing too, with the excess of information sometimes causing more harm than good. Influencers share their beauty tips on TikTok and Instagram, but unfortunately, some create confusion on how to best layer your skincare products. They teach complicated skincare routines with too many steps and an excess of skincare products. Luckily, dermatologists are coming forth on social media to dismiss misinformation. For example, the actress-turned-beauty-guru Gwyneth Paltrow recently shared her controversial beauty routine on Vogue. Dr Shereene Idriss reacted with a super educational video that dismisses several current beauty trends. She explains step by step all the erroneous and, quite frankly, dangerous information in Paltrow's skincare routine. 
Since no miracle product or ingredient does it all, you'll need more than one step in your daily routine, and of course, there is the right order (and the right time) to do it. So, backed by science, here are the beauty routine steps women of all ages must follow to best layer skincare products. And because your nighttime routine is the most important one, we will start by that.
Our editors select independently all products featured on Notorious-mag. However, when you buy through our links, we may get a commission.
How to layer your night time skincare products 
Pollution builds up throughout the day, so first thing; it's important to get rid of the impurities that clog your pores in order to allow the active ingredients to help your skin regenerate itself while you sleep.
Before you layer any skincare product on your face, take off your makeup and superficial impurities with a good makeup remover. Cerave no-foaming gel formula removes excess makeup and dirt while protecting the skin's natural barrier.
This is a very important step in your skincare routine that you shouldn't overlook – and never overdo. Make sure you exfoliate your skin once or twice a week. Be careful with physical and DIY exfoliation as they can be too aggressive, especially if you have acne because it can leave you with scars. Chemical exfoliators like Alpha hydroxy acids (AHAs) and Beta hydroxy acids (BHAs) improve skin texture and leave it fresh and ready for the next steps.
3 – Apply retinol or retinoid
After the first three steps, your skin is immaculate and will absorb whatever skincare products you layer next. So make sure to use an excellent serum packed with active ingredients to nourish the skin overnight. Retinol or retinoid are the products your skin needs to produce more collagen, even out skin tone and fight fine lines. Although, if you have sensitive skin, apply your moisturiser before the retinol.
Finally, the last step is to use a good moisturiser. Actually, this is the most important step to have your skin healthy and glowy; cleaning and moisturizing. Vienna Skincare is a biocompatible regenerating and anti-aging hydration cream based on the skin healing of a throat cancer patient after radiation treatment.
How to layer your daytime skincare products
For your daytime beauty routine, you won't need to follow all the 6 steps above mentioned. A simpler and shorter routine suffices.
In the morning, wash your face with cold water only. Do not use a cleanser as you have already used it at night time, and you don't want to over strip your skin of its natural oils.
Apply an antioxidant serum, like Vitamin C, to counteract the negative effects of pollution, and brighten the skin. If you have time enough, add another step after you layer the product, a skincare massage with a jade roller to help promote lymphatic drainage and depuff eyes. And if you don't have one, just keep a spoon in the fridge and use it instead.
Make sure you spread the moisturiser not only onto your face but also down your neck and exposed chest area.
[fvplayer id="361″]
As we know it too well, we need to wear sunscreen every day. Be generous when applying sunscreen. And, as with your moisturiser, don't forget your neck and chest, and since you're at it, the back of your hands too! Additionally, read about the myths and reality of How much SPF we really need.
The last step in your beauty routine; drink plenty of water! You may also like to watch how to use coconut oil in your beauty routine.
[fvplayer id="178″]
Title photo by Humphrey Muleba on Unsplash