Nature and Artistry Unite: COS x Stephen Doherty Collaboration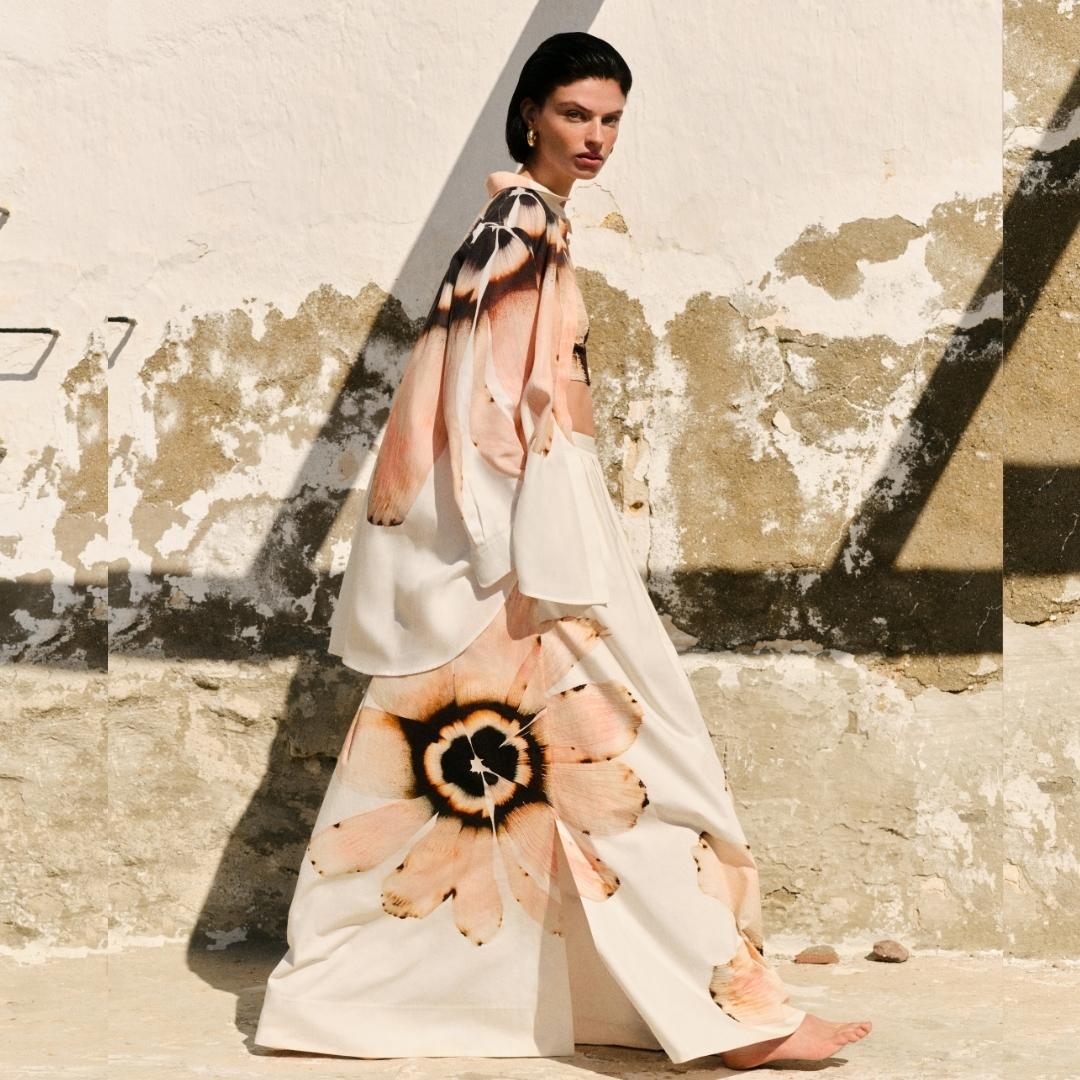 Experience the stunning fusion of art and fashion in the highly anticipated COS x Stephen Doherty collaboration. Launching on June 8, 2023, this capsule collection celebrates the captivating beauty of flowers, inspired by Doherty's ongoing series, "Gratitude Blooms." So, immerse yourself in the harmonious blend of ink-and-water floral artwork and effortless summer dressing, as COS x Stephen Doherty transports you to a world where nature and fashion converge.
Captivated by the allure of flowers, Doherty's artistic journey began during his residency at Aamir Art House in Porvorim, Goa, in 2018. The Gratitude Blooms series originated from his fascination with the flowers used in ritual celebrations and acts of gratitude, particularly in local shrines. Alongside exploring the human body, Doherty's works radiate a profound appreciation for the delicate splendour of blossoms.
COS x Stephen Doherty Created a Real Flower Power Collection
In collaboration with COS's design director, Karin Gustafsson, Doherty's artwork takes centre stage in the COS x Stephen Doherty capsule collection. With a focus on the moment when flowers reach their peak bloom, this limited-edition 17-piece collection encapsulates the sheer magnificence of nature. Ink-and-water floral works by Doherty adorn the collection, evoking a sense of enchantment and reverence. The collaboration between Doherty and COS blossomed during the iconic Chelsea Flower Show in London. The initial connection was made as Doherty worked in a pop-up studio, and the COS creative team was captivated by his talent. A shared appreciation for beauty in simplicity brought their visions together, resulting in this awe-inspiring collaboration.
Doherty describes flowers as soft yet strong, seeking to capture their essence of ease and hope through his artwork. The inspiration behind the 'Gratitude Blooms' series traces back to his residency in Goa, where he immersed himself in the lush surroundings, bird sanctuaries, and lakes. The presence of flowers in the local shrines left an indelible impression on Doherty, sparking his artistic exploration. Among his favourite blooms are the delicate-petalled anemone flowers, renowned for their ethereal beauty and symbolism of hope and anticipation.
A Collection With Endless Styling Possibilities
The COS x Stephen Doherty capsule collection seamlessly blends the worlds of art and fashion, resulting in effortless yet captivating pieces. Drawing inspiration from the carefree vibes of summer, the collection features flower-adorned shirts, diaphanous dresses, and silk scarves. Each garment is thoughtfully designed to offer endless styling possibilities, enabling you to curate your own unique looks. The use of lightweight layers of silk and linen ensures a breezy and comfortable experience.
Craftsmanship takes precedence throughout the collection, evident in the intricate beading adorning bandeau tops and the artfully reworked floral motifs on leather mules. The COS design ethos centred around quality in materials, fit, and details, aligns seamlessly with Doherty's skilful artistry. The result is a collection that exudes a "must-have" feeling, destined to leave a lasting impression.
The COS x Stephen Doherty capsule collection will be available at selected COS stores worldwide starting from June 8, 2023. As the capsule collection reaches an international audience, Doherty eagerly awaits the sight of people proudly donning his wearable art.
Prepare to immerse yourself in the unparalleled beauty of nature, embodied in the COS x Stephen Doherty collection, and embark on a journey where fashion becomes a canvas for artistic expression.
If you liked this post, you will love to know more about the macro trend "Quiet Luxury".
All Images are courtesy of COS.