Coffee houses to escape from the cold in Vienna 
Herr Ober, eine Mélange bitte!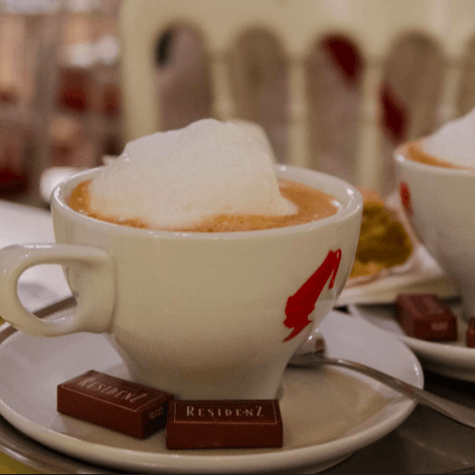 Vienna offers many fantastic coffee houses where you can sit for hours long, sipping a delicious Mélange with pastries or cake while reading the newspaper or magazines. The Viennese take their coffee culture very seriously, no wonder Unesco named the Austrian capital's coffee houses an "Intangible Cultural Heritage". There's no better way to help you survive the low temperatures and the stressful winter sales shopping than stopping by one of the many charming coffee places.
You can try your luck at the famous Demel, the incredibly beautiful Cafe Central or the traditional Cafe Sacher, but they are usually packed; finding a table there is quite a feat. Luckily there are so many other options of marvellous coffee shops in Vienna that you won't need to freeze to death out in the cold! 
Kleines Café  
One of the cutest and cosiest coffeehouses in Vienna and my personal favourite is the tiny Kleines Café. The bohemian atmosphere of this minuscule place is excellent, and so are the snacks and the music. The charming coffee house was designed by Architect Hermann Czech in the '70s and is still very popular among artists and students in general. Although the Kleines Café is situated in the centre of Vienna, in a cobbled-stone street just behind Saint Stephan's Cathedral, you won't find too many tourists there. Franziskanerplatz 3, 1010
Café in der Burggasse 24
This coffee house, attached to a Vintage Shop, looks cool with its mismatched bric-a-brac furniture, couches, a street lamp, several pots of plants and two fireplaces, perfect for these winter days. You'll find the coffee place in the backroom of Burggasse 24. There are power points next to tables where you can charge your computer or cellphone, so it is the ideal spot if you want to spend a few hours working or studying. Or you can read a good book next to the fireplace while sipping a delicious Mélange or Cappuccino. Burggasse 24, 1070 
Cafe Phil
Café Phil is a mix of Café, art space and bookstore with second-hand furniture as hip and cool as their clients. Their book and vinyl selections are mega. It's the perfect place to spend an afternoon browsing their books and records, having some excellent hot coffee. They also offer a delicious brunch, but It can get a bit too crowded during weekends. Gumpendorfer Straße 10-12, 1060 Wien
Café Jelinek
Café Jelinek, which opened its doors in 1910, is popular thanks to the green velvet sofas and walls covered with famous people pictures. The cosy interior and the crackling sound of a wood-oven that warms up the room invite you to linger for hours. Otto-Bauer-Gasse 5, 1060
Café Kafka
Cafe Kafka is a small traditional coffee house opened in 1880 near Mariahilfer Strasse, the shopping street. Hide from the cold and have a good coffee next to a fireplace there. If you are hungry and a big meat-eater, that's not the place for you, though, as they serve vegan and vegetarian food. The small tables are usually busy with locals reading or working on their laptops while listening to Blues and Soul music. The atmosphere is bohemian, with black and white photos on the walls. Capistrangasse 8, 1060 
Hotel Daniel Bakery 
Hotel Daniel's cafe, next to the botanical gardens, is a spacious space with big windows from where you can see the hotel's garden. The décor is very hip and cool, like the hotel, with mismatched furniture, pallet made tables and even a swinging sofa in the best shabby-chic style. Their brunch is delicious, and their comfy couches are perfect for a lazy morning or afternoon. Landstraßer Gürtel 5, 1030
Herr Ober, Herr Ober, eine Mélange bitte!
CS