Love & hate – Cargo pants will be hot in Fall 2022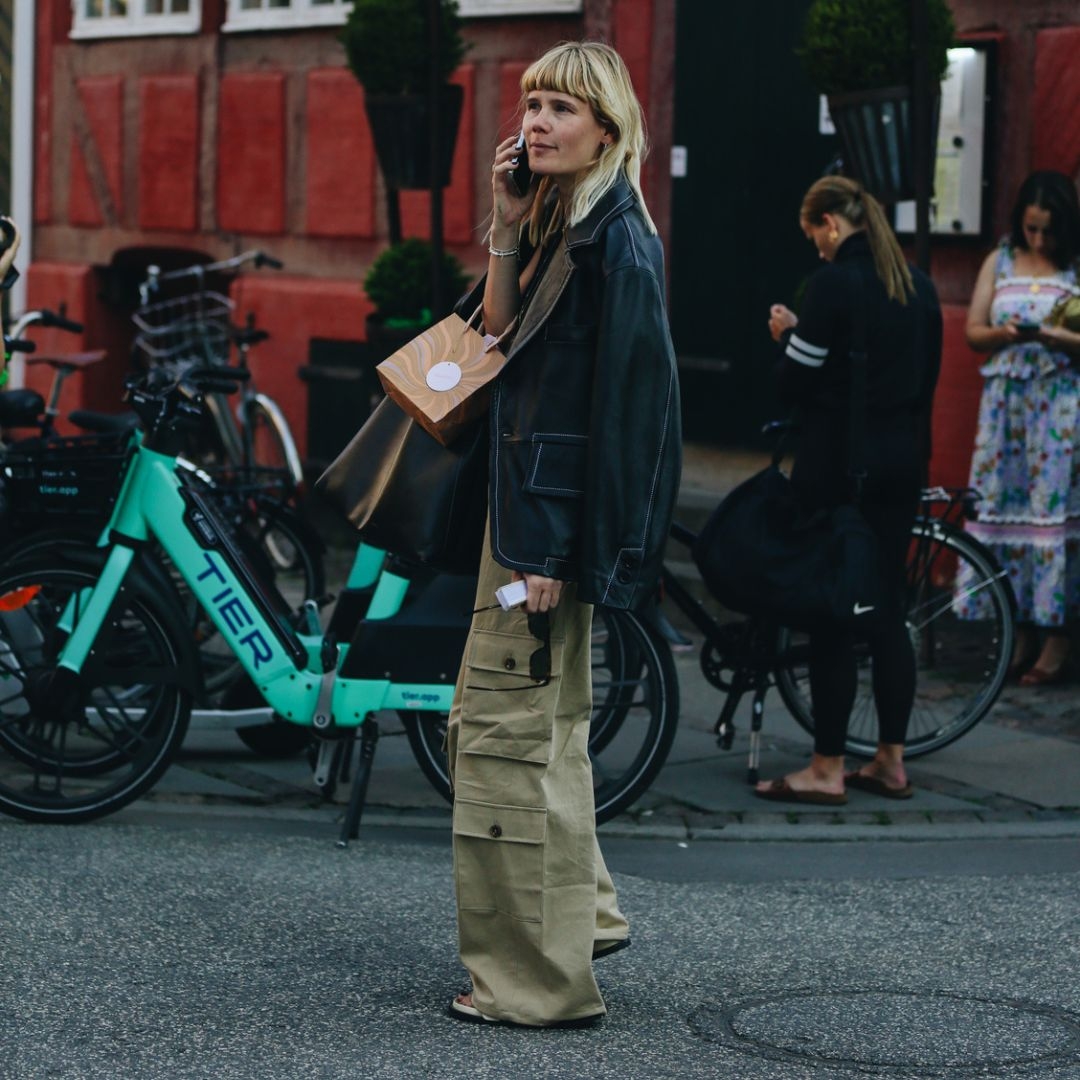 Some people love cargo pants, some hate them, and of course, there's always the "well, whatever" group. But there's no denying that cargo pants will be a hot item for Fall 2022. The trousers with pouchy pockets and roomy silhouette were seen in abundance on the streets of Copenhagen at the last CPHFW SS23. Also, the military-inspired pant appeared on the AW22 catwalks of Isabel Marant, Saks Potts, and Alice+Olivia, among other fashion designers.
Utility trousers have become a favourite uniform among fashion folk and appear in different materials, from military parachutes to denim cargo jeans.
What is fashion's fascination with excessive pockets and utilitarian style
According to trend forecasters, fashion is experiencing a "trousers moment", which means that the bottom is getting more attention, innovation and changes than the top. In short, this Fall 2022, the trousers will be the element that will bring newness to your wardrobe.
Cargo pants are an evolution of a trend called GORPCORE. Writer Jason Chen coined this term in a 2017 article for The Cut magazine, which means "Good ol' raisins and peanuts", an expression used to describe trail mix. And so, Gorpcore is about functional clothing worn outdoors, like trousers with multiple pockets and hiking boots.
We still want comfortable clothes as we wore in the pandemic years, but now we want clothes that can be both relaxed and chic. And cargo pants can definitely be both.
Our editors select independently all products featured on Notorious-mag. However, when you buy through our links, we may get a commission.
Cargo pants slim cut
As we want to dress well again, choose cargo pants that look like chic trousers with wide legs. And in this case, the utility pockets are nothing more than a touch of design innovation.
Cargo with easy top
Since track trousers are the item that screams loudest in the outfit, choose a tight, simple top to match. But you don't need to be too discreet with your accessories. Instead, do as the fashion crowd from Copenhagen does and dare with a chain belt, a designer bag and high heels.
Cargo pants for all ages and body types
Age is no barrier to fashion. If the outfit looks good on you, wear it. In the case of cargo trousers, they look good on everyone. They are roomy on the legs and perfect for layering. Grece Ghanem wore two Cargo styles at the last CPHFW, one in thick cotton, like a work uniform, and one in leather. Both are worn with boots and, on top, chic, feminine style.
With ballerinas, heels or sneakers
As seen in the streets of Copenhagen, cargo trousers are worn with ballerinas (they are coming back), heels, sneakers and, of course, boots. Apart from the combat boots that make the cargo style, if you want to achieve a chic autumn style, the boots should be pointed and stiletto-heeled.
Oversized Cargos
As you have seen so far, cargo trousers come in different materials and cuts for all tastes and styles. However, the fashion crowd has chosen the oversized model as their favourite. So combine yours with a bomber jacket, XL like Emili Sindlev or cropped like Pernille Teisbaek.
Images @CPHFW