Our 7 street style outfits from the latest fashion weeks 
To wear this week.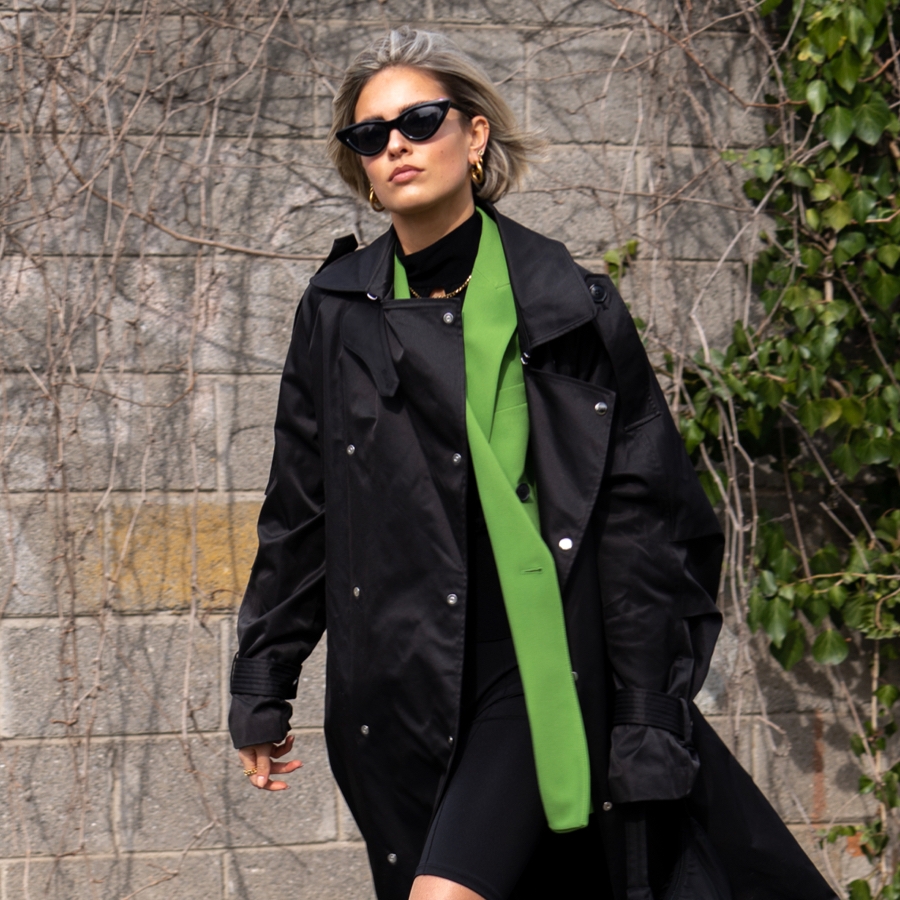 As soon as London Fashion Week finished, the fashion crowd flocked to Milan, and we, of course, are following each street style look to select the best outfits to put on our mood board for what to wear this week. The seven looks we hand-picked are totally contemporary. But, although they follow the spring/summer 2022 trends, they are also timeless, meaning you can wear these outfits forever. From bright-coloured garments to classic staples and ultra-glam looks, here are the best street style looks from the latest Fashion Weeks to serve as your outfit inspiration to wear now and next season.
Our editors select independently all products featured on Notorious-mag. However, we may get a commission when you buy through our links.
Monday
Start your week with a boost of energy. During Copenhagen and New York Fashion Week, the street style signalled that bright green is the outfit colour editors and fashionistas have chosen for 2022. A green trench and matching bag bring nowness to essential pieces such as a black knit dress. Additionally, the wide headband and chunky loafers worn with white socks add a preppy college vibe to the outfit—a perfect look for the office Monday meeting.
Tuesday
Firstly, the classic trench coat is the most timeless garment you'll ever own. This chic and versatile staple stylish women like Sofia Copolla wear is back on-trend year after year. So, elevate funky outfits and make them office-ready with a trench, and you can add a statement flower brooch to remind everyone that it's almost springtime! The black and yellow check shirt is totally now; we saw the checkerboard pattern trend emerge from the street style during NYFW. Wear it with a '90s style cropped wide-legged jeans and an oversized tote, one of the major bag trends for spring/summer 2022 that we spotted at Isabel Marant, Fendi, Versace, The Row, Proenza Schouler, and Givenchy.
Wednesday
If you too can't wait to wear your summery florals, here's how to make the floral look work in winter too. Pair a skirt with a t-shirt or turtleneck, depending on the temperature, and throw a chunky puffer coat on top to balance the romantic look. You can complete your outfit with ankle boots or sneakers. Finally, a vintage-inspired trunk bag will make you feel you're boarding the Orient Express instead of the office lift.
Thursday
Layering is one of the best styling hacks for this season. Choose your fav shirt, cardigan and blazer from your wardrobe and put together a layered outfit inspired by what Anna Louise Sproul wore at LFW 2022. You can wear this combo with any trousers, but we recommend you pick extra wide-leg pants, one of the spring 22 trends, to achieve a sophisticated office look.
Friday
Denim is the go-to outfit for a casual Friday at the office. The always stylish Tamu McPherson wears straight-leg jeans in light denim with a minimalist oversized leather shirt in matching colour. As a result, she elevates the outfit and makes it more contemporary by choosing leather instead of the usual denim shirt. And, since silver jewellery is back in 2022, she wears big silver hoops and pointy heeled boots to complete her relaxed yet put-together look that you can wear from the office to drinks with friends.
Saturday
Saturday night we want to party like it's 1999! First, a pink micro-skirt and platform sandals will put you in the right mood. Then, inspired by Jenny Walton's street style look at Milan Fashion Week, consider wearing baroque pearls. For example, a necklace and matching earrings to complete your outfit.
Sunday
No matter what you do on Sunday, comfort is the mot du jour. So, whether you're meeting friends for brunch or going for a walk in the park, here's a fantastic street style outfit inspiration we saw at Milan Fashion Week. The Fashion Buying Director at My Theresa, Tiffany Hsu, wears ultra-wide jeans with a basic white t-shirt, the coolest uniform in the fashion-savvy capsule wardrobe. She finishes her look with a retro-inspired bomber jacket in the Pantone Colour of the Year 2022. Additionally, she chooses bubblegum pink pumps because, yes, heels are back!
Photo copyright @ 2022 Fab4Media GmbH & Co KG.
Finally, here are some more great street style looks from Fashion Week to inspire you.
[fvplayer id="389″]