Best Makeup Artists' Tips for Mature Skin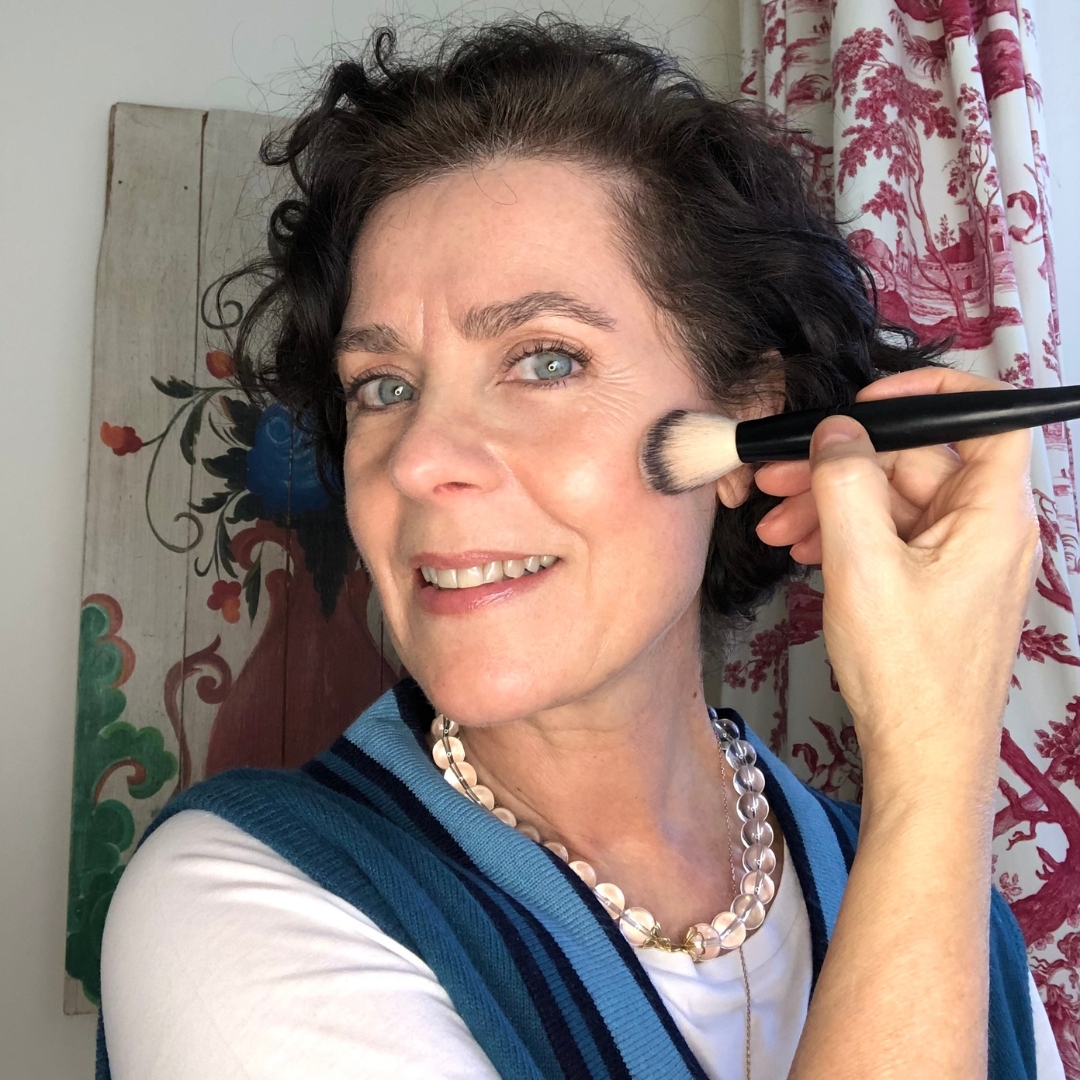 I'm 61 years young and have a few laughter lines to show for it. Each year, a new one makes its debut, but it doesn't bother me one jot, as long as my skin looks healthy and keeps its bounce. Achieving a natural and glowing look is a beauty goal that transcends age. However, as skin matures, it undergoes various changes that can make this goal a bit more challenging. From fine lines to uneven skin tone, mature skin presents its own set of hurdles. But fear not! Some of the world's best makeup artists have weighed in on how to navigate these challenges. In this article, we'll delve into expert tips from renowned makeup artists like Lisa Eldridge, Gucci Westman, Bobbi Brown (founder of Jones Road), and Sandy Linter.
All these makeup artists are singing from the same hymn sheet: less is more, to avoid the dreaded cakey look.
1- Lisa Eldridge and the Natural Glow
Lisa Eldridge, a makeup artist who needs no introduction, bangs on about the importance of skin prep. "Your makeup is only as good as the skin underneath," she often says. On top of that, Eldridge suggests using cream-based products that blend seamlessly into the skin.
2- Gucci Westman Bets on Minimalism
Gucci Westman is famous for creating dewy, supernaturally glowy looks for clients including Jennifer Aniston, Anne Hathaway, Reese Witherspoon, and Gwyneth Paltrow. But she also has a few tricks up her sleeve for mature skin. In this regard, her tip is to use as little product as possible. "Overloading your skin with products can accentuate the things you're trying to hide," she warns. Westman advises using a tinted moisturiser instead of a heavy foundation and focusing on spot-concealing.
3- Bobbi Brown is a Less is More Kind of Gal
Bobbi Brown, who founded a new makeup line called Jones Road, suggests using a light-reflecting foundation to give the skin a youthful glow. Brown also recommends using a cream blush rather than a powder one to dodge a cakey look. Her best-seller is the miracle balm, that you need in your necessaire.
4- Sandy Linter, a 75-year-old Makeup Artist
Sandy Linter boasts an impressive list of clients, including names like Jackie Onassis and Cindy Crawford. Recently, Linter added faces like Elizabeth Hurley and Rita Wilson to her roster. In her opinion, "You can't hide wrinkles, so don't even try, because you're only going to draw more attention to them." And she continues, "Instead of trying to hide flaws, enhance what you've got, love."
5- Makeup Tips for Mature Skin: The Ultimate Guide
Before starting makeup: Give your skin a good clean and apply a moisturiser. I use Vienna Skincare, a powerful yet weightless moisturiser that gives a special glow to the skin. Therefore, I start my makeup with my skin feeling as elastic as a bungee cord.
Even the skin: Apply a super-thin foundation or a cream powder foundation. For my skin, the cream powder foundation is the bee's knees because it gives a natural and translucent finish, and it doesn't settle into wrinkles. I use L'Oreal Paris Infallible 24H, which went viral on TikTok. It makes you look like you've had a professional airbrushing job, while still being lightweight. It doesn't settle into wrinkles, covers pores, and is heat-proof (did someone say hot flushes from menopause?).
Concealer: Since I've already used a powder foundation, I need just a smidgen of concealer. I use it mainly under the eyes, around the nose, and at the corners of the mouth to lighten the marionette lines. Dior Forever Skin Correct Concealer offers full coverage yet a natural finish.
Bronzer: As skin ages, it loses its lustre, so bronzer will naturally warm up the skin. Apply a smattering on the cheeks (below the cheekbone, creating a line at the height of the nose), but also on the forehead, temples, and jawline. The best bronzer I've ever had is from Victoria Beckham.
Blush: For mature skin, the best method to apply blush is on the upper part of the cheekbone. With the brush, you work the colour inward. This 'lifts' your face. In terms of colour, the sky's the limit, but bear in mind that the result should be natural and subtle. I'm keen on my powder blush from MAC, but I'm itching to try Chanel's No. 1 cream for lips and cheeks.
Highlighter: To create an extra glow, I'm absolutely smitten with this one from Chanel. For cream highlighters, dot on with your fingertips and then blend using a beauty blender sponge.
The trick for The Eyes: In your 50s and beyond, the corner of the eye becomes a bit murky. I dab a little concealer and sometimes a light eyeshadow in the corner of the eye, and the eyes look bigger and brighter.
Eyebrows: This tip is straight from the horse's mouth—a plastic surgeon, that is. He said that sparse eyebrows age you more than wrinkles do. Therefore, lush eyebrows are rejuvenating. To grow and strengthen your eyebrows, use Revitabrow. For makeup, use an eyebrow pencil, working in strokes to create the illusion of hair. For a natural finish, use a very fine pencil.
Eyelashes: They also change with age, becoming thinner and more brittle. So when choosing a mascara, make sure it's not too thick and doesn't start to clump. And according to Sandy Linter, "There's nothing more ageing than clumpy lashes on a woman over 50." She suggests this Chanel Mascara that comes with Provitamin B5.
Colour: Eyeshadows and lipsticks can be in any colour you fancy or that complements your skin. When applying eyeshadow, for example, start with a little shadow on the outer part of the eye and work with a brush inward. This way, the colour blends better and looks more natural. The eyeshadow is just the icing on the cake, and you don't need much. Remember that all makeup artists are in agreement that less is more. I sometimes use a little shimmer, but never products with glitter.
Lips: As we age, lips become asymmetrical and lose their definition. Therefore, using a lip pencil in the colour of your lips is spot on. Try NARS Velvet Matte Lip or Lisa Eldridge.
Makeup Tips for Mature Skin In Summary:
At any stage of our lives, getting dolled up, feeling good, and looking a million dollars in front of the mirror is important. Self-esteem is not vanity or selfishness, but a common good. If you feel good, you'll treat everyone around you like royalty. This applies whether you're 25 or 50. Having said that, we can't ignore the massive changes a woman goes through when she reaches a certain age. Among other things, hormonal changes cause sagging, and alter the texture and colour of the skin. In this case, makeup brings back the colours and freshness to the face. It's also a right laugh to put on makeup. But bear in mind that of all the recommendations, the top makeup tip for mature skin is 'less is more'. You don't need to hide wrinkles or plump up your lips and certainly don't need to shrink your nose. The best makeup for mature skin is the one that brings back light and freshness to the face.
Images and collages Makeup Tips for Mature Skin @notorious-mag