Anine Bing, the designer behind Meghan Markle's striped pants 
Meet the Danish designer.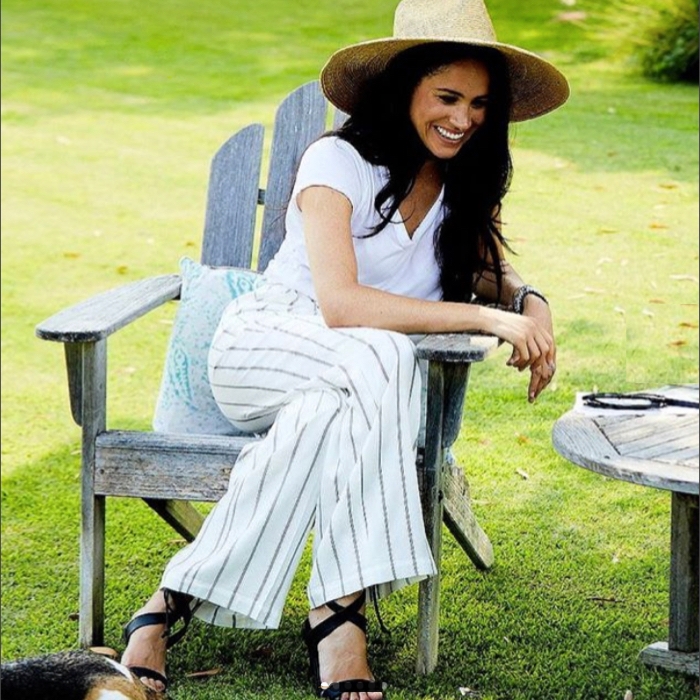 Whether you've missed her or not, Meghan Markle is back in the news, and this time, because of her smart outfit choice. The Duchess of Sussex looked effortlessly chic during a conversation with the activist Gloria Steinem. And soon after the first photos hit Instagram, fashion lovers wanted to know who's the designer behind Meghan Markle's Anine Bing striped pants.
Sitting in a beautiful garden wearing a summery outfit, Archie's mother chatted about women's rights and the importance of voting. Meghan paired the classic striped pants with a white t-shirt. Additionally, the Duchess of Sussex completed her look with a wide-brimmed straw hat by Janessa Leone and Stella McCartney faux-leather sandals. 
Meghan Markle's Anine Bing pants
The off-white herringbone jacquard trousers with contrasting stripes the Duchess wore are by the fashion designer Anine Bring. Called Ryan Trousers, Meghan Markle's striped pants are an everyday model that's lightweight and features a straight silhouette with pleats that enhance the wide-legs. Pinstripe trousers are timeless classics. The elegant staple elevates your office outfit, but these trousers are also fab for relaxed weekend looks. You can even wear pinstripe pants to go out at night, paired with heels, a statement top and a chunky chain necklace.
Who is Anine Bing?
The designer of Meghan Markle's striped pants is a former model, singer and blogger. Born in Denmark from Danish and Brazilian parents, Anine Bing grew up in Sweden. She then lived and worked as a model in several cities, including London, Stockholm, Los Angeles, Belgium, Hamburg, and Johannesburg.  The globe-trotter designer lives now in L.A. with her husband and two children.
Know more about the label Anine Bing
Anine Bing launched her namesake fashion label based in Los Angeles, California, in 2012. She creates clothes that are easy-to-wear and that look stylish, day and night. Her instant success is understandable since she focuses on quality and fit.
Inspired by Scandinavian simplicity and American energy, Anine Bing designs everyday wardrobe-essentials. Likewise, Bing creates investment pieces for modern women seeking timeless garments like Meghan Markle's striped pants. Her clothes are made in the highest quality fabrications and materials, including leather, silk, linen and cashmere. Bing says: "I am a mom, but that doesn't stop me from wanting to dress well. My aim is that regardless if you are a mom, a model, a lawyer or a teacher, you should be able to find cool and suitable pieces from my label". Besides Meghan Markle, fans of Anine Bing include Rosie Huntington-Whiteley and Gigi Hadid, among others.
Get Meghan Markle's Anine Bing striped pants. And why not combine the chic trousers with a matching jacket for fall?
Our editors select independently all products featured on Notorious-mag. However, when you buy through our links, we may get a commission.
Photos courtesy of Anine Bing. Title photo @royalsussexwindsors