Aisling Camps x Mama Farm: Rossellini's fashion adventure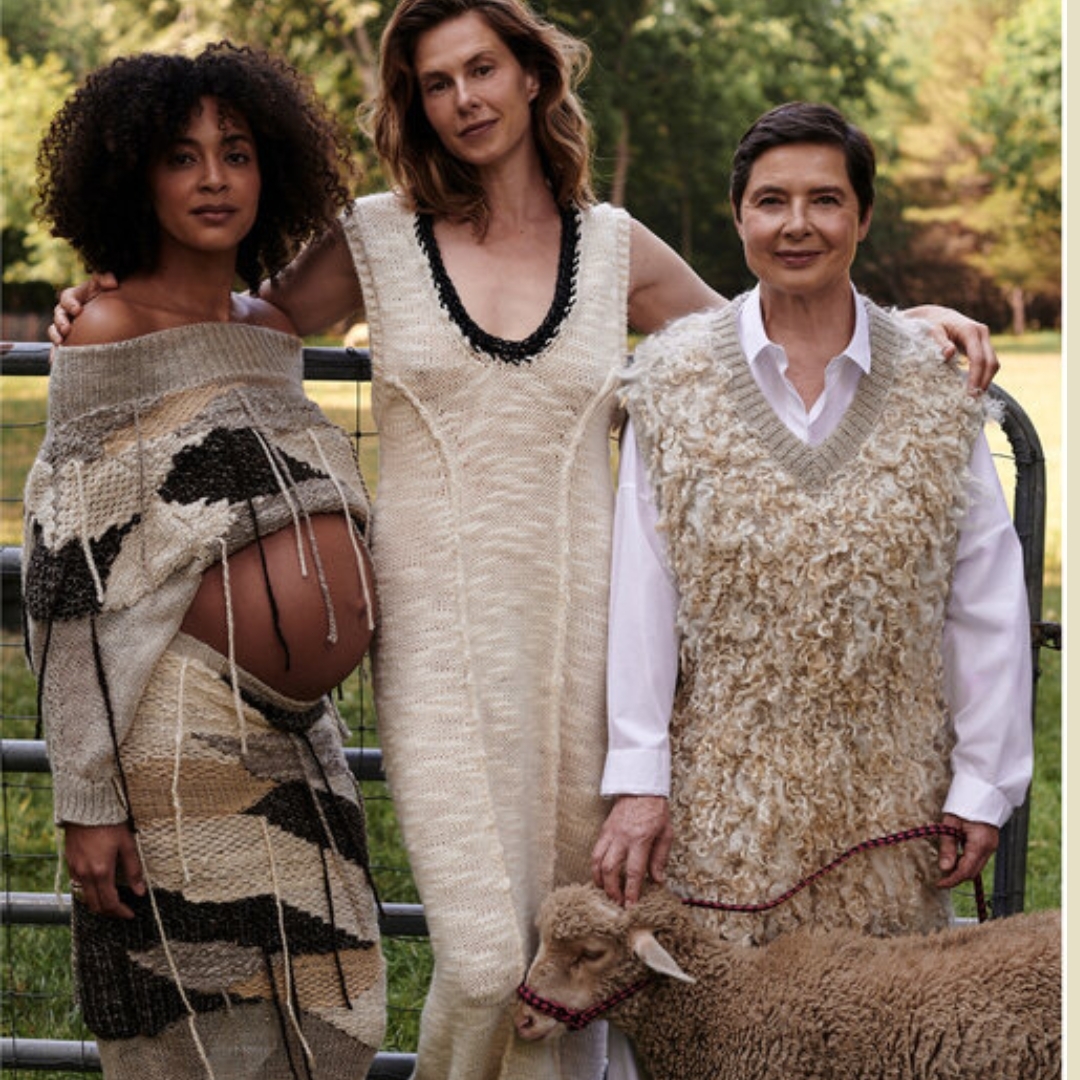 This week, Isabella Rossellini and her daughter, Elettra Wiedemann, launched a knitwear line made from sheep's wool in collaboration with designer Aisling Camps. The wool originates from the sheep on Isabella and Elettra's property, Mama Farm, situated 100 km from Manhattan. The Aisling Camps x Mama Farm collection is available exclusively for purchase on the online shop Moda Operandi. In this article, we delve into this fashion adventure of actress Isabella Rossellini and her passion for animals, nature and fashion.
Mama Farm is a manifestation of Isabella Rossellini's affection for animals.
While Isabella is primarily remembered for her acting roles, such as in David Lynch's "Blue Velvet," few are aware of her involvement in wildlife activism. Isabella presides over the Howard Gilman Foundation, a leading institution concentrating on wildlife preservation, arts, photography, and dance. Her commitment to animals and nature prompted Isabella and Elettra to establish Mama Farm on the South Shore of Long Island. This ecological paradise is home to chickens, turkeys, ducks, sheep, and other animals. Mama Farm serves as a community space where neighbours can visit, learn about conservation, engage with organic vegetables, and partake in healing activities.
The concept for the fashion collaboration using Mama Farm's sheep wool emerged when Isabella and her daughter Elettra encountered textile artist Aisling Camps.
The wool used in the Aisling Camps x Mama Farm collection is particularly unique.
The small, all-female flock consists of heritage breed sheep, each named after a famous personality, such as Garbo, Frida, and O'Keefe. Elettra Wiedemann explains, "Their quality of life is reflected in their wool. I've gained a profound appreciation for the artisanship required at every step of the supply chain. And that includes treating animals humanely and with kindness." The wool is sheared and processed by hand with minimal treatment, and the colours are naturally retained. Aisling sought to preserve the unique characteristics of each sheep's appearance. For instance, the Duse set features a fringed skirt and top with three distinct hues (warm ivory, hazy purplish heather, and chocolate brown), all naturally occurring colours in Jacob sheep. According to Aisling, "Once it's done, it's done—you can't order more."
An exclusive from Moda Operandi
Acknowledging the value of labour-intensive wool processing, from shearing to yarn creation, Elettra Wiedemann realized that the design of the collection needed to parallel that level of uniqueness and exclusivity. She reached out to Laura Santo Domingo, the founder of Moda Operandi, to help refine the product through fashion. Laura introduced Aisling Camps to Elettra, and the rest is history.
The Aisling Camps x Mama Farm collection offers unique, natural, and sustainable pieces, such as the O'Keefe vest that preserves the locks of wool from the sheep of the same name. Each garment tells a story, making it akin to purchasing a piece of art for your wardrobe. From this perspective, even a $1200 pullover may not seem excessively expensive. See all the pieces, here.
Image via @Moda Operandi