A talk with Breitling Squad: watches, fashion & more 
The new Endurance Pro.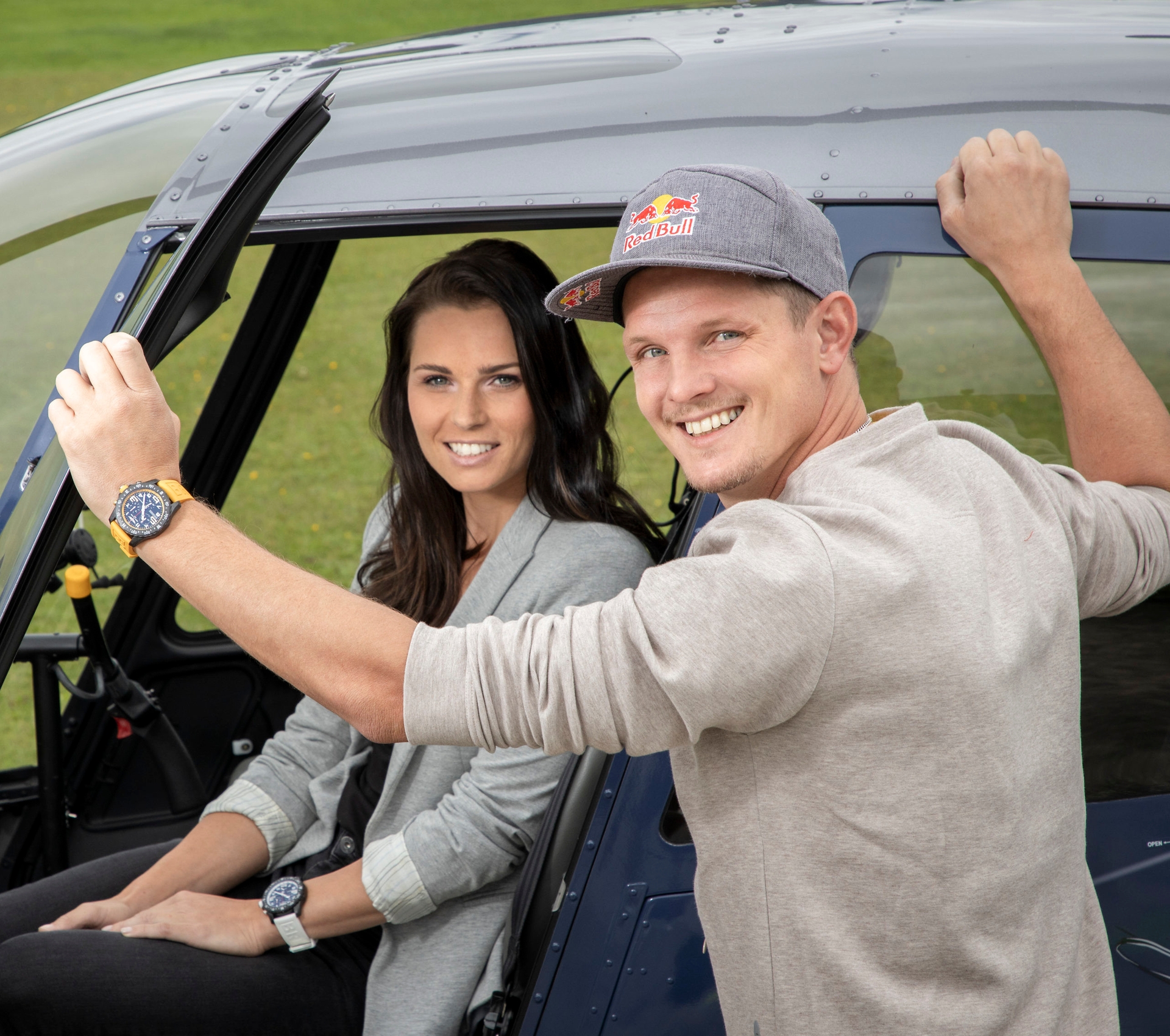 If you think of Austria, you think of Schnitzel, for sure. But besides eating, we are the best at skiing, and this is why watchmaker Breitling teamed up with winter sports legends Thomas Morgenstern, Anna Veith and Stefan Kraft as ambassadors for the presentation of the new Breitling Endurance Pro. Notorious went on a helicopter flight with pilot Morgenstern and talked to the Breitling Winter Sports Squad about fashion in sports, the cooperation with Breitling watches and how they spent their time during the lockdown. Also, we talked to Breitling's general manager Birgit Linhart-Kaser about how she leads the brand through the crisis.
As Breitling watches Ambassadors, what is your most outstanding personal achievement?
Thomas Morgenstern: In my private life, my daughter's development makes me very proud. It's the most beautiful thing in the world. And in sports, I am pleased I managed to win the big four; the World Championship, the Four Hills Tournament, the Olympic Games and the Overall World Cup. Additionally, I've always come back strengthened after my accidents. Of course, my current job as a helicopter pilot is also an achievement.
Anna Veith: For me, an achievement is when, for example, you have a real low and then manage to emerge stronger. Getting the silver medal at the Olympic Games in Pyeongchang after my serious injuries, was one of my most outstanding achievements.
Stefan Kraft: My most remarkable achievements were the two Overall World Cup balls.
When not in sports outfits, what clothes does the Breitling Squad prefer, and what role does fashion play?
Anna Veith: When doing a lot of sport, it's always a great feeling to dress feminine in between – to "dress up". In everyday sports, it is mostly sweatpants and sneakers, and as a woman, it's nice if you bring in a little variety.
Thomas Morgenstern: Being not that specific, I prefer relatively simple clothes. Sometimes, it can be a little more unusual and colourful. Alpha Tauri has a style I like. I also love to wear suits, and at home, sweatpants. Fortunately, there are always Breitling watches that match!
Stefan Kraft: I like to follow fashion and find out about the latest trends. When going to gala evenings or friend's weddings, I enjoy wearing a suit and matching bow tie. 
As athletes, time plays an essential role in success – what properties must a watch have, and why Breitling?
Stefan Kraft: The Breitling Endurance Pro is perfect for sports because it is remarkably light. Of course, a stopwatch is essential. And in general, time management is the most critical factor for success. For my private life, Breitling watches like the Navitimer Chronograph are more elegant and go perfectly with a suit.
Anna Veith: In skiing, performance is measured in terms of time and, ultimately, it's the hundredths that count to be successful. So, accuracy and precision are essential! My Breitling Endurance Pro is, therefore, a reliable companion.
How does the Breitling Squad combine the Endurance Pro?
Thomas Morgenstern: For me, Breitling Endurance Pro is suitable for everyday use, whether it's flying or doing sports. But then, I'd wear a more elegant model with a suit.
Anna Veith: Being also a passionate water sports enthusiast, I can wear Breitling watches like the Endurance Pro with comfortable, sporty clothing, and in the water.
How did Breitling Ambassadors kill time during the lockdown?
Thomas Morgenstern: I tried to teach myself, unsuccessfully, how to play the guitar. Most of all, I cooked and learned about helicopter flying. Spending time at home was enjoyable and not boring at all.
Anna Veith: I enjoyed being at home with my family and relaxing. We have the advantage we live in the countryside, so we went for daily walks. And, as hoteliers, we were also very busy with the future of our family business.
Stefan Kraft: After a successful season, you rush from one appointment to the next. So it was relaxing baking and trying new recipes. I didn't neglect home workouts either.
A moment in the life of Breitling Winter Sports Squad members when time stood still?
Thomas Morgenstern: For me, it was at the Olympic Games in Sochi in 2014, when a hundred thousand thoughts went through my head. I would have liked to press stop.
Anna Veith: My moment is very similar; when you achieve an Olympic victory that you've been working towards all your life. Time stood still while receiving the medal.
Stefan Kraft: Clearly, my world record jump – when down in the run, time stood still. I wanted to experience that moment longer.
Is the Covid-19 pandemic impacting the watch industry, and how do you deal with it as the general manager?
Birgit Linhart-Kaser: The Corona crisis welded our team very much together, even though we were on short-time work and working from home. Nevertheless, we were always there for our partners, dealers and sponsors. We needed to be available locally in our office – we are responsible for Breitling watches in 28 countries. At the same time, the headquarters in Switzerland presented a new collection during the lockdown, via webcast. That worked sensationally, showing that Breitling is not standing still, but is, instead, accelerating. With Breitling Winter Sports Squad and the launch of Endurance Pro, we want to continue on this path.
What criteria do you use to choose the Breitling Squads?
Birgit Linhart-Kaser: It's an international concept. The first Breitling watches Squad was the Cinema Squad with Brad Pitt, Charlize Theron and Adam Driver. Other Breitling watches ambassadors are the Triathlon Squad and the Aviation Pioneer Squad. As Austrians, we then considered which squad would suit Breitling watches best. Of course, we have fantastic musicians, and our cuisine is worth mentioning, but we are unique when it comes to winter sports. Our goal is that Squad Members have a pioneering spirit, achievement and passion. That is what Thomas Morgenstern, Anna Veith and Stefan Kraft reflect perfectly. It is also crucial that Breitling watches are associated with the Squads' characteristics. Authenticity is particularly important to us.
If you are more into retro design, have a look at the Breitling Top Time Limited Edition.
All photos: courtesy of Breitling by Johannes Kernmayer