7 looks on Instagram that we saved to copy every detail. 
Your weekly inspiration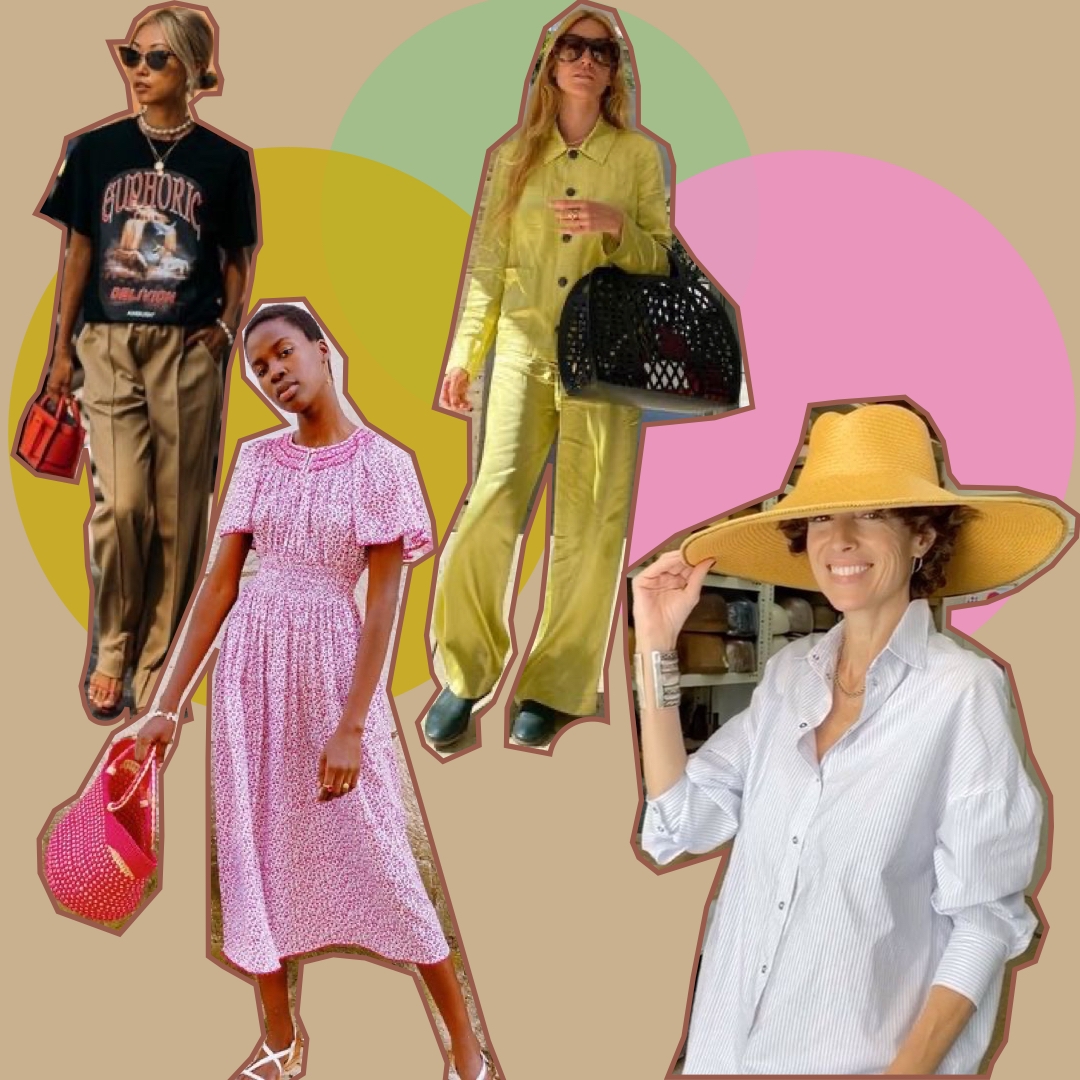 Summer is here, and as much as we would like to be vacationing during the whole of it, we still have to spend time in the city. So what better way to upgrade your wardrobe than to mix the vacation and city style? Scroll down for our top 7 Instagram looks to copy now. Get inspired.
Floral summer dress
"Sex and the City" is making its comeback, and so is Carrie Bradshaw's signature Liberty floral dress. It's the one feminine piece that we'd like to have in our closet this summer. Furthermore, it's very breathable and super easy to style. Just put on a pair of flat sandals, and you are ready to go.
The bermuda shorts
Simplicity is the ultimate sophistication. Thus, we absolutely love Géraldine Boublil's look, especially her Bermuda shorts. A true Parisienne and creator of Erin Off Duty, Boublil owns a great sense of design. She styled the shorts with a pair of her very own Erin Davidson sandals. Want to steal her outfit and remain sustainable? We have the perfect solution for you. You just have to grab your old denim jeans, cut them short and you're all set. 
The straw hat
Undoubtedly, the straw hat has always been a timeless staple. It was first worn in the Middle Ages in Asia and Europe to provide sun protection. Nowadays, it's one of the best Instagram looks to copy this summer. With its small openings, the straw hat is perfect for the hottest summer days as it allows ventilation and cooling. As you see, Natalia Lopez, a co-founder of the luxury tableware brand – Vajillas de Ultramar, and her look are all about aesthetics. Moreover, we've been obsessing over her undeniably chic style lately.
The statement T-shirt
Want to make a fashion statement with your outfit like former Vogue editor Lynn? Here comes the statement t-shirt! Lynn is a fashion stylist based in Munich which whom we've worked on many different projects. Her street-chic smart style is what we love most about her. Choose a slogan tee, from mottos to classic quotes, to look effortlessly cool this summer. P.S. We guarantee you that Kenzo is a perfect choice.
The jumpsuit
It can't be that it's only us who are in the mood for our pyjamas 24/7, right? So, when looking for a true equivalent of loungewear, we suggest long cotton jumpsuits much like Blanca Miró's. The best way to decode her style is classic with a twist. A true fashionista, Miró's a co-founder of the online shop Vasquiat and the fashion label LaVeste.
The short-sleeved shirt
We bet you didn't think of this one. However, the simple short-sleeved shirt delivers on comfort, fit, and of course, style. Thanks for the inspiration, Natasha Goldenberg! The fashion stylist is a true vintage lover and a great inspiration to street-style photographers. Our fashion tip: you can also wear this shirt as a beach cover-up.
The LBD
Lastly, the saviour of any wardrobe – the little black dress. Anna Borisovna and her piece are on top of our Instagram looks-to-copy list. Borisovna is an Instagram sensation and an internationally recognized stylist. She's worked for brands such as Massimo Dutti. And her motto? Less is more. The casual LBD that Anna chose is one for the city. On a side note, did you know that Coco Chanel first introduced the piece and then made famous by Audrey Hepburn in the film Breakfast at Tiffany's?