6 new French jewellery designers to buy now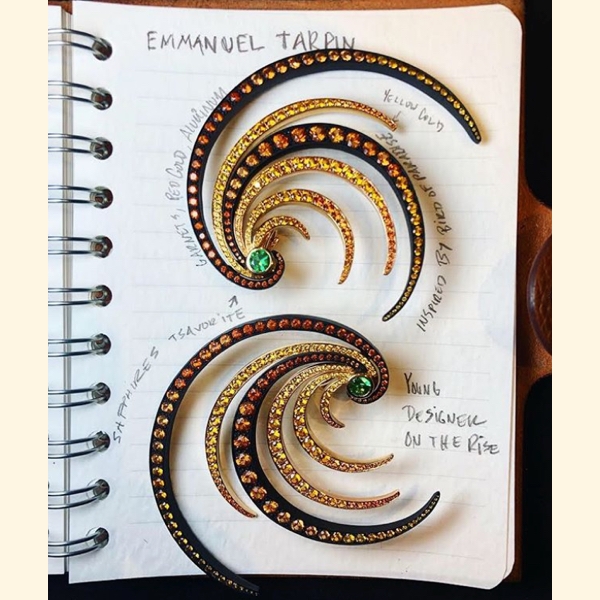 During PFW, all eyes are on fashion in Paris, which made me think about what is happening in the French capital, in terms of jewellery design. The first French jewellery designers that come to mind are, naturally, houses as such Cartier, Chaumet, Boucheron, Van Cleef & Arpels. But apart to these heritage names, there is a new wave of young talented designers creating fabulous pieces that are shaping contemporary jewellery design in France. Here are the six new jewellers you should know.
The Parisian Charlotte Dauphin de La Roche­foucauld launched her concept label from a minimalist atelier in the ultra-chic Place Vendôme. The geometrical lines of her pieces and the striking navy gold she uses have become her trademark. She studied History of Art and explains that her passion for jewellery design began while on an archaeological dig near the Sea of Galilee. It was then that she realised the coins and jewellery they were digging up had exceeded their owner's lifetime.
The French designer, whom many consider the new JAR, studied at Haute École d'Art et de Design de Genève and learned the craft at the workshops of Van Cleef & Arpels before launching his eponymous brand at the young age of 25. The designer uses aluminium because of its lightweight and flexibility, which allow him to create his unique and colourful pieces with magnificent shell, floral and leaf shapes. His spiral earrings with tsavorites, garnets and yellow and orange sapphires are fabulous!
This young fashion design-graduated worked in her father's architecture firm before turning into a jewellery designer in 2016. She's just launched her second collection. Von Munster designs beautiful structural pieces with graphic shapes and pure lines that are handmade in Italy.
After ten years at Balenciaga, the French stylist and designer launched her eponymous brand four years ago. Her jewellery pieces are sculptural, with fluid and voluminous shapes that wrap around the fingers, ears, wrists and hands in an organic manner, her multi-hoop earrings and rings seem to defy the laws of gravity.
We are in love with the earring from Persee. They remember me the elegance of Calder's mobile sculptures with its Kinetic effect. Every precious stone move and are in balance. The brand's concept is a wearable luxury; gold, diamond and other precious gems that can be worn day-to-day.
Persée has an online-shop but also is on sale on net-a-porter and Browns.
Marie Cabirou is the designer behind the jewellery label Marie Mas. She has a unique technique that makes her pieces not only beautiful but playful and transformative. She finds most of her stones in Jaipur, and produce them in Mumbai, India. The French jewellery designer refined her skills during three years working for Dior Jewellery under the eyes of Raf Simons.
"I am looking for movement, poetry in the mechanism's complexity," says Marie of her work.
.