Louis Vuitton Menswear Spring 2020, a boyhood inspired collection 
By Virgil Abloh.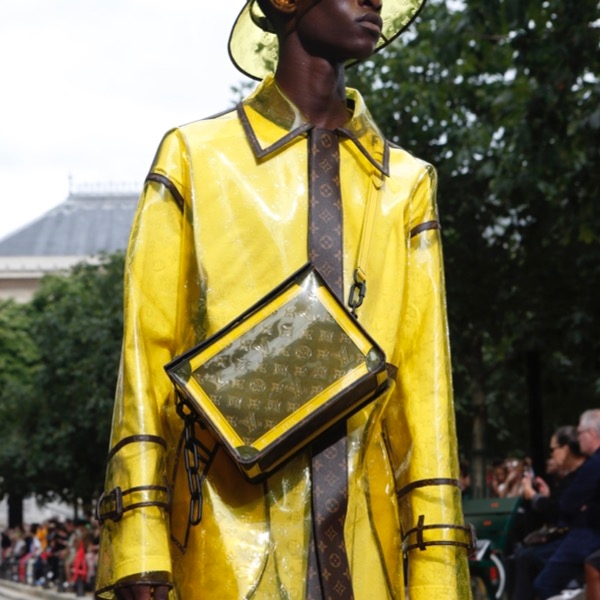 Virgil Abloh celebrates the beauty of familiar and natural things with his menswear Spring 2020 collection for Louis Vuitton. Abloh presented the collection at Place Dauphine, the beautiful square in Paris. The fashion designer created a boyhood bliss, with a bouncing castle, balloons, flying kites and ice cream. All was set among the typical Parisian cafés, crêpe stands and the magnificent architecture of the French capital.
Celebrity guests and kites
Abloh sent the guests in advance a Louis Vuitton D.I.Y. kite-making kit to put his audience in the right mood.
The guests at the Louis Vuitton Menswear fashion show included many celebrities. For example, Ben Harper, Gigi Hadid, Kris Wu from the boy band EXO. Also present were the Australian actor Joel Edgerton and Formula One driver Lewis Hamilton.
Cobbled streets as runway
They sat on park benches under the trees or at coffee tables in the Ile de la Cité's cobbled street square near the Pont Neuf. The A-list guests sipped champagne while they were taken back to that childlike enchantment with the world. And watched models pass by in subtle combinations of pastel hues, except for some neon pink and bright yellow looks.
The flowers, so present in this Louis Vuitton menswear collection, represent freedom of expression and movement. They also symbolise metamorphosis, from boyhood to manhood. But taking time to stop and smell Abloh's roses to make new space for freedom of thought. The designer explained that he wants to "continue this feeling of the whole freedom of being a child, still learning."
Abloh says he's learning and taking a much more couture approach to his street-style signature designs. So, we see flower embroideries on tulle coats and hoodies made from chiffon skillfully pleated. Consequently, the designer's building bridges between the exclusive haute couture luxury and the aesthetics of streetwear.
"LOUIS VUITTON Women Collection Fall-Winter 2016/2017 © Louis Vuitton Malletier – All rights reserved" LV Menswear Spring 2020. Photos courtesy of Louis Vuitton.