6 Jewellery Trends for SS 2023 To Add To Your Style Now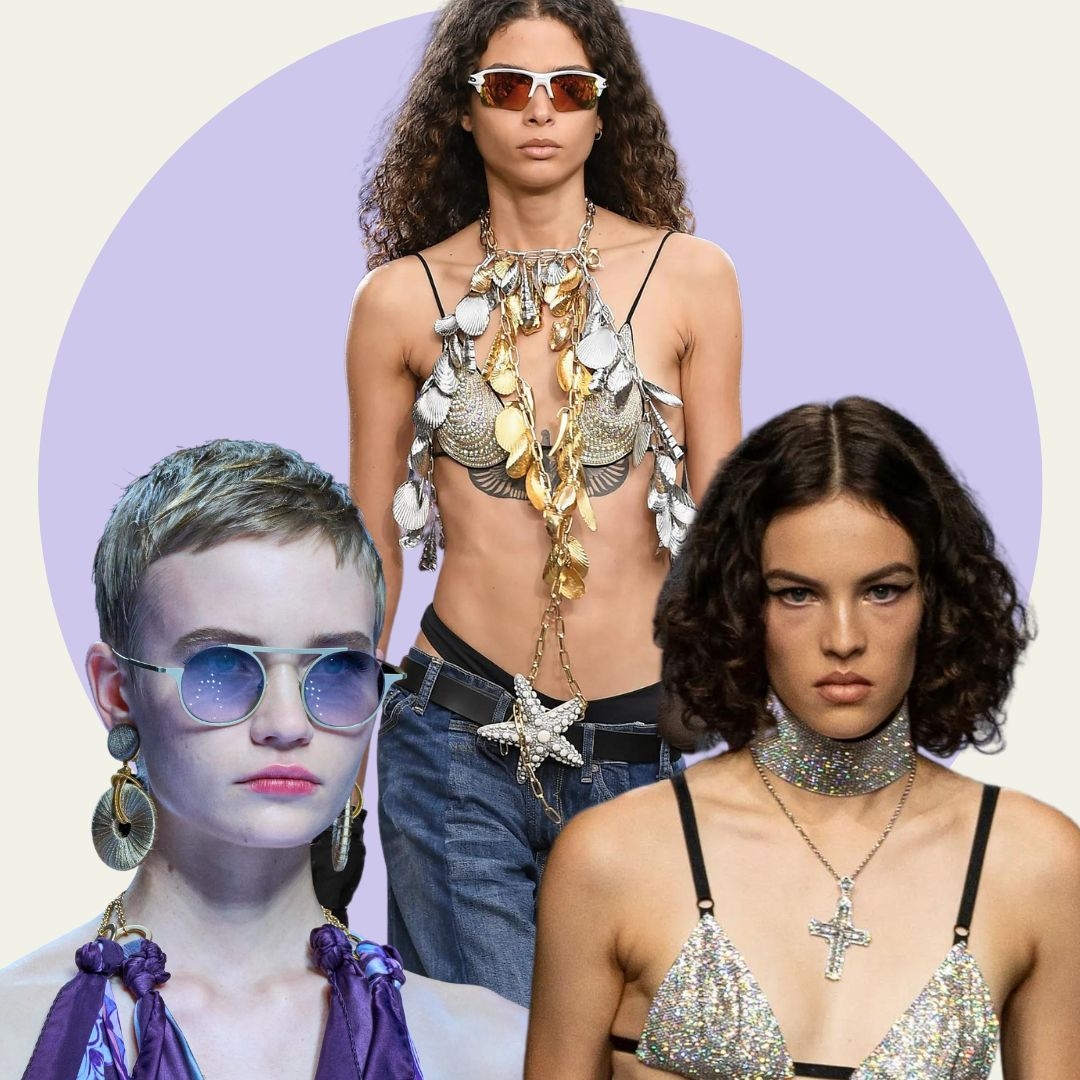 You already know that Notorious has a penchant for jewellery and accessories. Firstly, these pieces are the surest way for you to elevate and update your wardrobe. Furthermore, jewellery and accessories can change the outfit from classic to Avant-garde, from serious to provocative. So, we carefully looked at the latest shows from Milan, New York, London and Paris and brought you the six prime jewellery trends SS 2023, which you can incorporate into your style immediately.
On catwalks such as Dolce Gabbana and Tom Ford, jewellery complements and defines looks. They are supersized pieces that do not pass unnoticed and go beyond mere ornaments. The favourite metal of many designers is silver, which is used with references to the grunge style of the mid-80s to the boldness of the 90s. Chokers, another top jewellery trends SS 2023, are also 90s influenced; remember the plastic tattoo choker? But now the material is black grosgrain ribbon, as seen on the Etro show or braided leather on the Alberta Ferretti catwalk.
Supersized Earrings
Supersized hoops and XL clap earrings are present in many runways SS 2023. Above, we've selected images of the runway from Halpern, Tom Ford and Jil Sander. When choosing your earrings, remember that more is more.
Silver is gold
I love silver; it is cool and chic at the same time. And we chose different styles of how the designers explore this metal. The left image is from Chopova Lowena, a Bulgarian brand based in London that revived the grunge style. In the middle is a detail of Salvatore Ferragamo's chic silver bangs. The image on the right side is Bottega Veneta's beautiful texture necklace.
Chocker Necklace
And here we are, paying homage to the 90s again. But instead of the plastic tattoo chocker, we will see fine materials and creative designs. Some good examples are the stylish twisted sequin chocker from n°21, worn over the shirt collar, the F Fendi logo chocker and the leather with stone hippie style from Alberta Ferretti.
Crystal Clear
Big transparent crystal, acrylic or plexiglass in the form of necklaces, bangles, or earrings will make a statement contrast with the many black outfits that we saw on the catwalks for SS 2023. And you won't wear them only in party outfits, but with white t-shirts in the office too. 2023 will be a bold Summer.
Do-it-yourself jewellery
Jewellery is also following the homespun fashion trend with ideas of luxury crochet, patchwork and all sorts of handwork. So we saw Coach's memory charm necklace, macramé earrings from Tory Burch and the amazing Act 1's watches patchwork.
Pearls
We will see pearls in different designs, but all running away from the granny style. The cascade of pearl necklaces proposed by Alaia reminds us of Linda Evangelista in the 90s modelling for Chanel. Dior took inspiration from Catherine de Medici. And Erdem played with different sizes and forms, creating an eclectic pair of earrings.
Our editors select independently all products featured on Notorious-mag. However, when you buy through our links, we may get a commission.
All images are courtesy of the designers and PRs agencies