Outfit ideas for almost back to normal life 
That you can wear to the office too.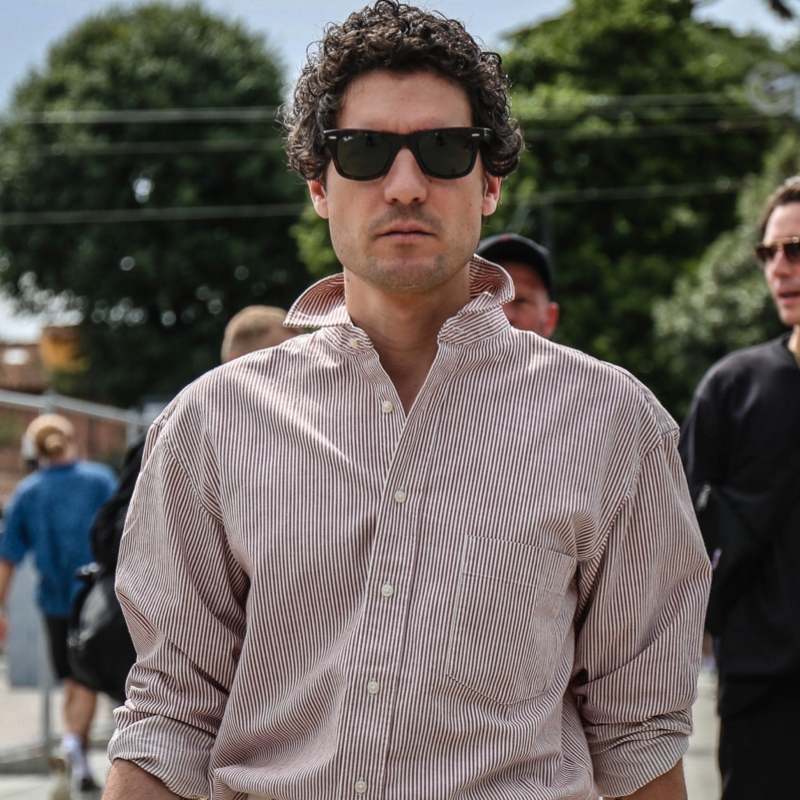 Quarantine is slowly being lifted so we thought you'd like to have some outfit ideas, now that we are almost back to normal life. After being stuck at home for months, dressing up only from the waist up for conference calls, it is time to ditch the loungewear. Keep scrolling for some cool spring/summer outfit ideas that are surprisingly office-appropriate.
If you purchase something through the links in this post, Notorious-mag will get a commission.
White Jeans
Pastel colours with white denim look effortless yet put-together.
Although jeans are in every man's wardrobe, white jeans used to have kind of a bad reputation in the past, a bit too Italian-playboy-in-the-Riviera. But white is a minimalist colour that goes with everything and represents hope and a new beginning. No wonder it's the post-pandemic hue choice of many stylish men. Wear your white denim with a linen shirt from the cool label Frescobol Carioca. Add a beige blazer and oxford shoes for an effortlessly chic office look. If you're still working from home, switch to a pair of comfortable driving loafers.
Hawaiian shirts
Hawaiian shirts paired with chinos scream summer time.
Instead of a classic button-down Oxford shirt, why not wear a laid-back Hawaiian shirt? The colourful shirt gives you instantly that carefree spirit of high summer, even if you're working from your living room. For a subtly formal office outfit, pair your Hawaiian shirt with an unstructured linen blazer and chinos.
Tank top
Tank top layered under a suit for a fashion-forward office look.
This might come as a shocker for many, but tank tops have slowly made their way to the office space. Forget Miami Vice sleazy detectives and drug dealers. Because, yes, if you work in a more casual place, you can pair tank tops with suits and pull off a contemporary office outfit. In fact, designers have presented tank tops in the most varied fabrics for Fall 2020. From Isabel Marant and Dion Lee's tie-dye printed tops to Ludovic de Saint Sernin's silk ones, tank tops are moving away from the underwear section. We suggest you leave the jewellery at home; unless your name is Jay-Z or Kayne West.
Shorts
Bermuda shorts can be smart enough for a summer office look.
If your office doesn't have a strict dress code, there are ways to smarten up your shorts for a day at work. Pair your Bermuda shorts with an Oxford shirt, a linen blazer and loafers for instance. Choose shorts that have a tailored feel and solid colour. Although you're wearing shorts, you're not going to the country club, so you don't want your look to be too informal. Avoid pairing them with t-shirts and sneakers. And finally, needless to say, you shouldn't wear shorts to an important meeting with clients.
Oversized Oxford Shirt
Beat the heat looking smart in oversized Oxford shirts.
Add a touch of subversion to your office outfit by wearing oversized Oxford shirts, longer than your blazer, to play with proportions as Prada did in its S/S 2020 collection. Otherwise, wear the oversized shirt like a regular one, and pair it with chinos for a casual look. Additionally, you can layer it over another shirt or t-shirt and wear it open in the manner of a blazer. Oversized Oxford shirts are much fresher for summer hence an excellent option for long days at work.
Street style photos taken during Pitti Uomo in FLorence, via Shutterstock.