Why I'm in love with Max Mara Resort 2020 in Berlin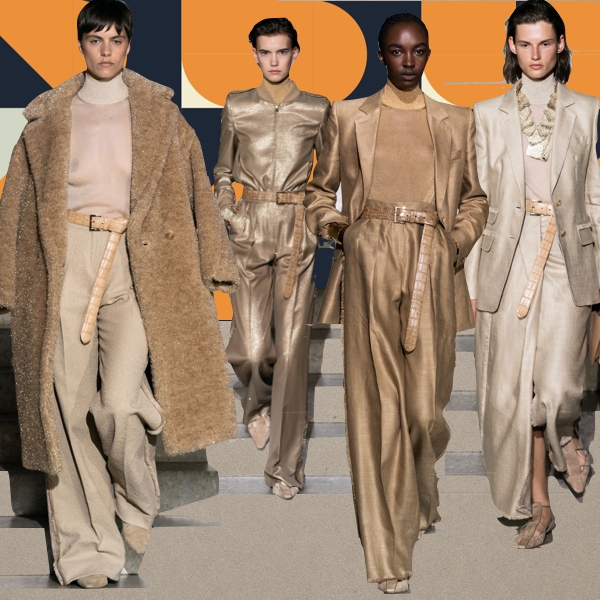 The Italian fashion house Max Mara, famous for the camel cashmere coats and chic clothes for professional adult women, presented in Berlin its Resort 2020 collection inspired by Marlene Dietrich and David Bowie, with a touch of Meissen porcelain.
Max Mara Resort 2020 catwalk show was the first one to be held at the Neues Museum. The building was rebuilt by British architect David Chipperfield 60 years after being bombed during the second world war.
Max Mara honouring Berlin
The neoclassical Museum and Berlin's Bauhaus fit perfectly Max Mara Resort 2020 architectural fashion. Ian Griffiths, the creative director at Max Mara, said he wanted to honour Berlin. The city had meant so much to him as a young punk studying in Manchester in the early '80s. And one cannot talk about Berlin without thinking of the German Bauhaus movement created by Walter Gropius in 1919. And today, Bauhaus is still one of the most influential styles in modern design, no wonder it inspired Griffiths.
Marlene, Bowie, and Meissen
For Max Mara Resort 2020 collection, Griffiths mixed inspirations that seem unlike at first. But they all have the culture and sub-culture of the German capital in common. In the '30s, the Berliner actress and singer Marlene Dietrich defied conventions wearing masculine tailoring. David Bowie also lived for some time in Berlin. The British singer left his androgynous style in the '70s. He later embraced a sleeker look, in the '80s, with oversized tailored suits and chic coats. Griffiths recreated these '80s looks for Max Mara Resort 2020 with a shimmering update. The designer also found inspiration in archives of the German porcelain maker Meissen.
Max Mara Resort 2020 collection is a perfect blend of all these elements. As a result, architectural and sophisticated tailoring pieces one could imagine Dietrich and Bowie wearing. Some of them came embellished with white sequin flowers that look like the delicate porcelain flowers made by Meissen.
Clothes to be taken seriously
Among the models who presented the stunning collection, the stars were mature women. For example, the German singer Ute Lemper, 55, the only one who wore high heels. Additionally, the 44 year-old ocean conservation activist Carolyn Murphy also walked down the runway. These mature and strong women embody Max Mara's style.
Long before women's empowerment became a buzz word, Max Mara was already making power dressing for women. Clothes that make women feel comfortable about themselves and not worry about age or about revealing or concealing too much. Griffiths said that "Everyone in fashion is talking about empowerment now. But in Max Mara's case, it is hardwired in. If you say that your clothes are about empowerment, you must produce clothes that genuinely are empowering. The message of these clothes is about a woman who is determined to succeed and to overcome wearing clothes in which she will be taken seriously."
I loved everything about this catwalk show, especially the shimmering Teddy Bear coat with lamé and the lurex trench coat. These pieces are classic Max Mara with an edge (talk about making an entrance!). I can see myself wearing each and every piece of this collection singing "Heroes" with David Bowie!