Valentino Fall 21: the ultimate guide on how to mix colours 
A lesson in colour blocking.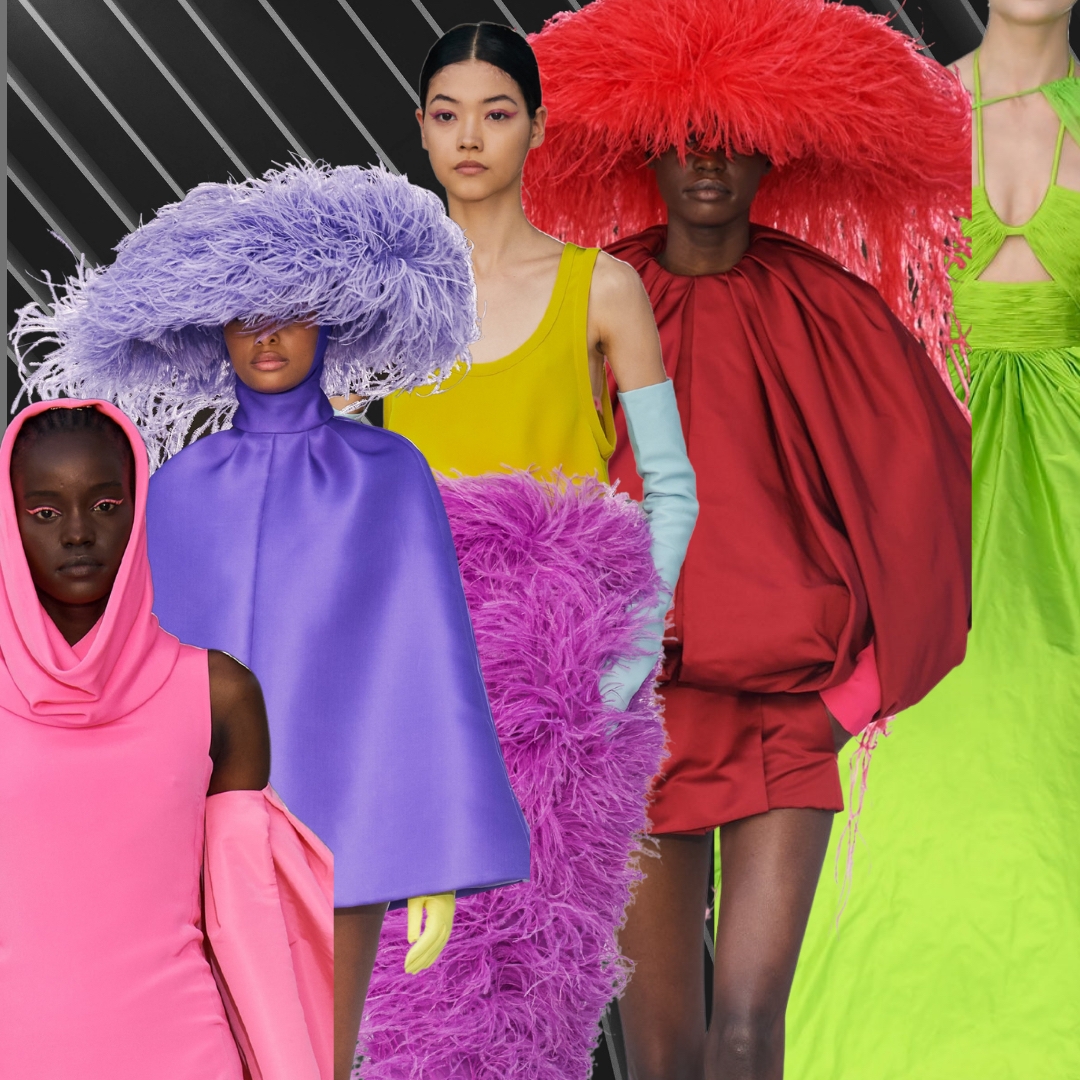 We're still in awe at the beauty of the wonderful Valentino Fall 21 Couture collection and how Pierpaolo Piccioli mastered with grace his audacious mix of colours.
The creative director of Maison Valentino asked his guests to come in white to the runway show, a striking contrast to the models wearing such sublime, colourful looks. From ball gowns to voluminous mini-dresses, Valentino Couture Fall 21 collection is, above all, an ode to colour-blocking and an inspiration for our autumn outfits. Goodbye, beige and grey. From now on, all I want is to mix hues like pink, purple, orange and green.
Our editors select independently all products featured on Notorious-mag. However, when you buy through our links, we may get a commission.
Brown and pink
Although it's an unusual combination, brown and pink make, actually, a perfect match. Consequently, you can easily refresh your classic brown blazers and dresses by adding a pink foulard or accessories.
Purple and yellow
Mixing colours can update your wardrobe, so add a touch of yellow, like these Valentino gloves, to any purple outfit and brighten up your fall 21 looks. For example, pair purple trousers and a blazer with a yellow t-shirt for a relaxed office outfit.
Wisteria purple and tomato red
Very Yves Saint Laurent from the '80s, we love this colour combination. With these two tones together, any outfit looks elevated.
Fuchsia and orange
This luxe colour mix reminded us of vintage Christian Lacroix outfits and bags. Wear an on-point orange cut-out knitwear or belt with fuchsia trousers, a chic look that takes you from the office to a night out.
Pink and green
Get inspired by Valentino fall 21 because these two hues mixed will definitely lift your spirits when the days get shorter and darker, but you can start wearing them now.
Silver and mint green
How to wear silver during day time? Add a little mint green in the mix, for example, an accessory, to make the sparkling colour easier to wear for fall 21. Choose a t-shirt or sweatshirt in mint green to dress down the metallic silver mini skirt for a cool and super wearable outfit.
Fuchsia and neon yellow
Neon yellow or apple green look fab mixed with fuchsia, so go ahead and combine these colours; they will add a smile to your face instantly, we guarantee.
Apple green, silver, and electric blue
Now that you're already a pro at colour blocking, why not add a third hue to the mix, as we saw at Valentino Couture?
Fuchsia, yellow, and baby blue
In his Fall 21 collection for Valentino, Picciolo managed to make the mix of colours like Chartreuse yellow, baby blue, and fuchsia look like they'd always meant to be together.
And finally, don't forget the nail polish to match your fabulous colour-block looks. By the way, do you know the history of manicure?
[fvplayer id="268″]
Title image by Notorious-Mag, photos courtesy of Valentino.