The Fall 2023 Skirt Trend That's Everywhere on IG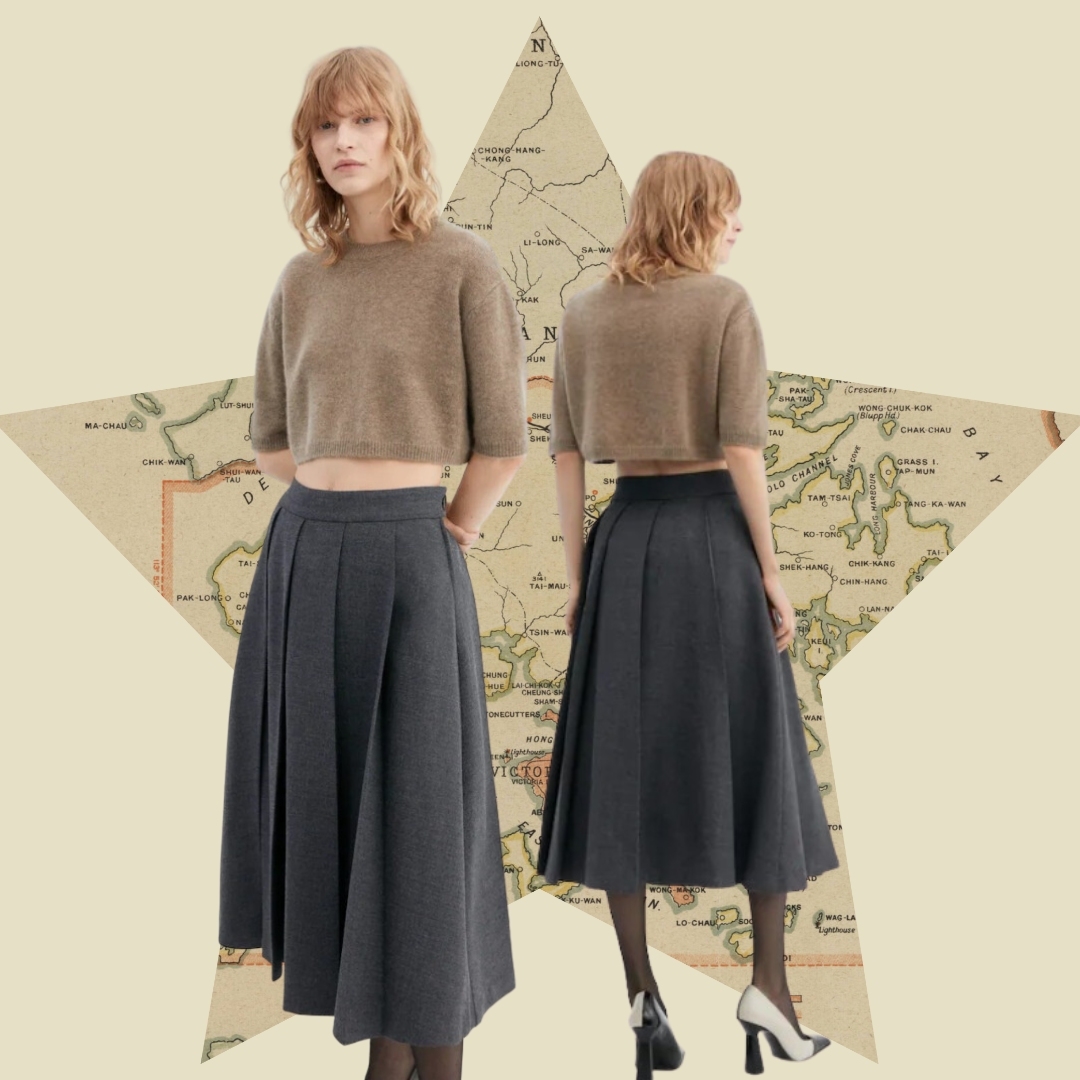 This is our job: to save you from searching for trends on Instagram and TikTok. Every day, someone from our team is on the hunt for trends. And this week, an Autumn skirt has persistently appeared in our feed. All the cool girls and fashionistas, post-Fashion Month, are wearing this pleated skirt. Is it worth writing a whole article about a pleated skirt? Oh, yeah. The hashtag #pleatedskirt has approximately 200 million views on TikTok. So, you can bet that the big Fall 2023 skirt trend is the return of the pleated skirt.
THIS MANGO PLEATED SKIRT IS AGELESS
Now, before you dismiss this skirt as just another passing fancy, consider its timeless appeal. Whether you're a 20-something fashionista or a fabulous 50-year-old, this pleated wonder from Mango is your ticket to style heaven. It's like a fashion time machine – throw on some bike boots and loafers, and you're cruising through the decades. For that elevated look, pump up the volume with some, well, pumps, or rock those pointed-toe knee boots. And guess what? It's a versatile piece that can bridge the generational gap. Moms and daughters, this one's for both of you!
CHANNELLING THE '50s: LADYLIKE VIBES
Let's talk vibes, shall we? The lovely Blanca Ramiro and the Austrian sensation Max Laurenz are giving us some serious ladylike energy straight out of the '50s. Max is channelling Dior vibes with a cinched waist and a skirt that's got more volume than your favourite fashion history book. Meanwhile, Blanca is rocking the waist-cinching action with a belt and a black and white bicolour pump, also from Mango.
THE PERFECT MATCH: CHOOSING THE RIGHT TOP
But what about the right top for this Trend Skirt Autumn 23, you ask? Influencers Grece Ghanem and Claire Rose Cliteur nailed it with beige tops that hug the curves, just like your go-to cardigan, twin-set, or trusty old shirt. The key here is to keep it body-hugging since the skirt volume brings the drama.
FINISHING TOUCH: SHORT SOCKS AND KITTEN SHOES
Oh, and for a final touch of style magic, take a page from the Dutch fashion influencer Linda Tol. She's paired her Mango skirt with a sand-coloured pullover, short socks, and sling-back kitten pumps. If that's not the definition of chic, we don't know what is!
SCHOOL UNIFORM ENERGY: BE AHEAD EVERYONE
And here's a pro tip for all you fashion-forward individuals: Get that school uniform energy going by adding a slim bomber jacket or a Barbour-style jacket, knee-high socks, and Sebago shoes. This look is pure gold, one of the highlights from the latest SS24 Miu Miu runway, but it's perfect for Fall 2023 too. Be the first to wear a skirt with Sebago or boat shoes because it's going to be hotter than your morning coffee next season.
MORE FALL 2023 SKIRT TREND INSPIRATION
Now, in case you're still hungry for more of this skirt trend in 2023, we've rounded up a list of our favourite pleated skirts. Trust us; you'll want to bookmark these links:
So there you have it, darlings!