Royal wedding dress: Princess Maria Anunciata Liechtenstein in Valentino  
And the best dressed guests.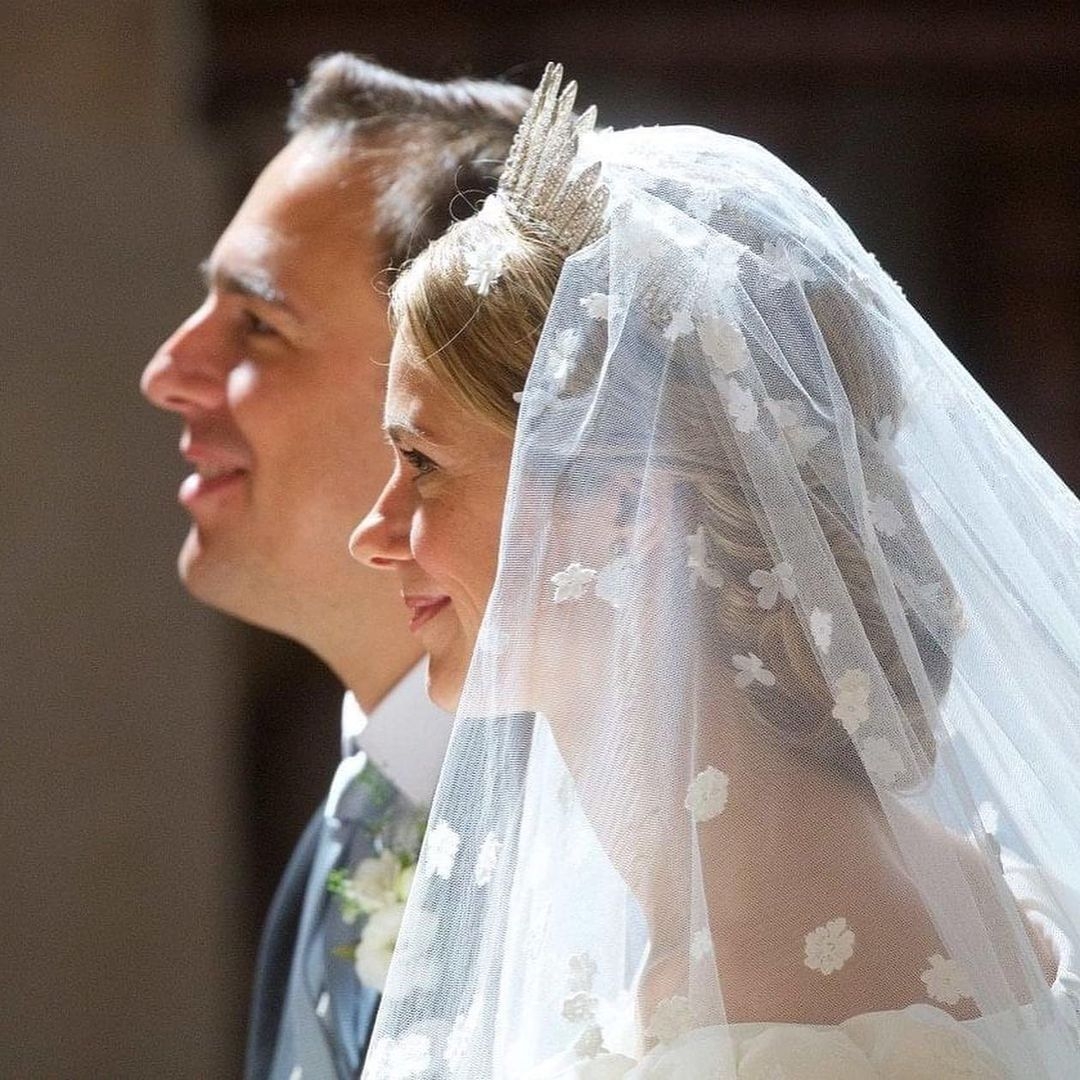 Vienna staged a fabulous royal wedding on the 4th of September 2021, and the Austrian capital was flooded by, above all, the most elegant aristocrats from all over Europe. The location was certainly a good choice because nobody parties like the Viennese. So, Princess Maria Anunciata of Liechtenstein and Emanuele Musini got married in the 12th-century baroque church, the Schottenkirche, and the bride looked stunning in a Valentino wedding dress with statement balloon sleeves and an impressive royal tiara. 
Maria Anunciata is the daughter of Princess Margaretha of Luxembourg and Prince Nikolaus of Liechtenstein, who both come from sovereign houses still reigning and, as a result, her parent's wedding in 1982 was the last dynastically equal marriage in Europe up to this day.  
So, how about Princess Maria Anunciata wedding tiara?
As you know, we, at Notorious, love a tiara story, so we must talk about the stunning headpiece Maria Anunciata wore to the religious wedding; the Habsburg Fringe Tiara. The diamond diadem from the Royal Family of Liechtenstein once belonged to the Archduchess Maria Theresa of Austria, Archduke Karl Ludwig's wife and daughter of King Miguel I of Portugal.
In short, the Austrian imperial court jeweller Köchert made the Fringe Tiara for the Archduchess around 1890, and she later gave it to her daughter who married into the Liechtenstein family. Similarly, Queen Elizabeth II and her granddaughter Princess Beatrice also wore a fringe tiara to their weddings.
While the royal wedding party moved to a grand evening reception, Maria Anunciata changed into a white dress embellished with crystals. Moreover, on her head sparkled the fantastic Vine Leaves tiara from her maternal uncle, Grand Duke Henri of Luxembourg. Finally, the evening reception was held at the Gartenpalais, or garden palace, one of the two Liechtenstein town palaces in Vienna.
The most elegant guests, in other words; our best dressed list
Firstly, Beatrice Borromeo Casiraghi
As we already told you, Beatrice Borromeo Casiraghi is the most elegant aristocrat in Europe, so, as we all expected, she looked absolutely chic for the Viennese happening. Her beige embroidered dress was certainly, my favourite look from Maria Anunciata's royal wedding ceremony. Additionally, she chose a daring backless red gown for the gala reception, both wonderful outfits by Christian Dior.
Princesses Alessandra of Hannover, above all, chic allure
Likewise, Alessandra de Osma, Princess of Hannover, looked stunning and modern in a printed dress from the Spanish heritage fashion house, Pertegaz, which designed the wedding dress of Queen Letizia. With her on-point fashion choices and, above all, chic allure, the Peruvian-born is on the top of our Most Stylish Royals list.
Princess Gabrielle of Bourbon Parma
Princess Gabrielle de Bourbon-Parma, née Archduchess of Austria, looked certainly beautiful in the religious wedding of Maria Anunciata. That is to say; she mastered a pastel colours combination that was very flattering and, as a result, enhanced her porcelain complexion.
Then, Princess Ekaterina of Hannover and Tatiana Santo Domingo
Princess Ekaterina of Hannover chose the cool label LaDoubleJ to attend the royal wedding in a floral dress in bold colours, moreover, she matched a small bag and bracelets in bright hues. Andrea Casiraghi's wife, Tatiana Santo Domingo, also wore a floral dress by the L.A. based label Brock Collection. But hers was in pastel blue. Additionally, she completed her look with a cute bag by Carolina Santo Domingo.
Finally, some more stylish guests at Maria Anunciata and Emanuele's wedding
Title photo @dnaroyals.
And lastly, check where Notorious editors go to find the best bread and croissants from Vienna.
[fvplayer id="304″]