Mia Larsson's sustainable jewellery collection for & Other Stories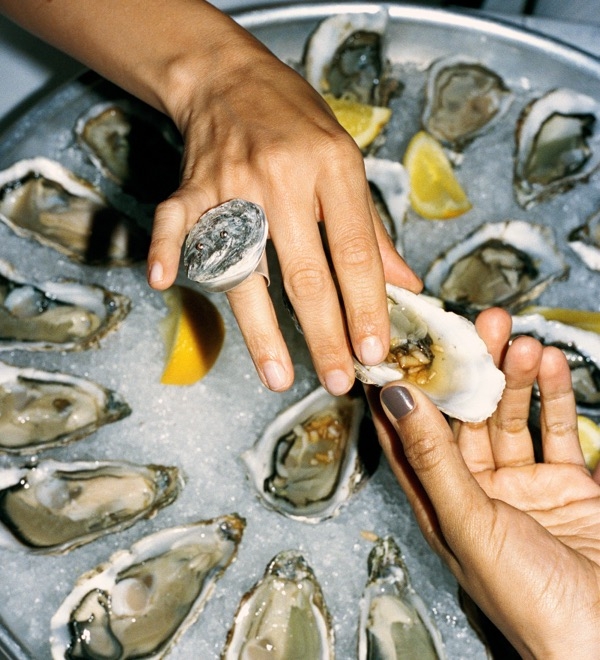 A collaboration between the high-street label & Other Stories and the Swedish designer Mia Larsson resulted in a limited collection of sustainable jewellery using recycled silver and oyster shells. The Stockholm-based designer is known for giving a second life to materials from nature by transforming them into beautiful jewellery pieces.
Larsson thinks "it's great that oysters build this high-tech ceramic material around to protect themselves from outside invaders. Jewellery is so fascinating because it tells a story about your beliefs, and can connect you with certain places and your loved ones. Jewellery is a work of art that connects you with the world."
Mia Larsson's sustainable collab-collection with & Other Stories captures the beauty of the sea and celebrates the deep connection between men and nature. The collection consists of seven pieces; rings, earrings, one necklace and one hair clip handmade by the artist with oyster shells that she picks from a seafood restaurant in her hometown and cleans in her atelier before combining them with recycled silver to make sculptural pieces.
Anna Nyrén, head of Co-labs & Other Stories, states that "Mia's exquisite hand-crafted pieces inspire all of us to think about how we can work with nature, and not against her."
The unique pieces illustrate to perfection the saying that "One man's trash is another man's treasure". The limited edition of the environmentally friendly jewellery collection is already sold out but & Other Stories designed a sustainable capsule collection inspired by treasures of the sea to accompany Larsson's creations.
Mia Larsson jewellery. Photos courtesy of & Other Stories