Kate Spade's first German store in Munich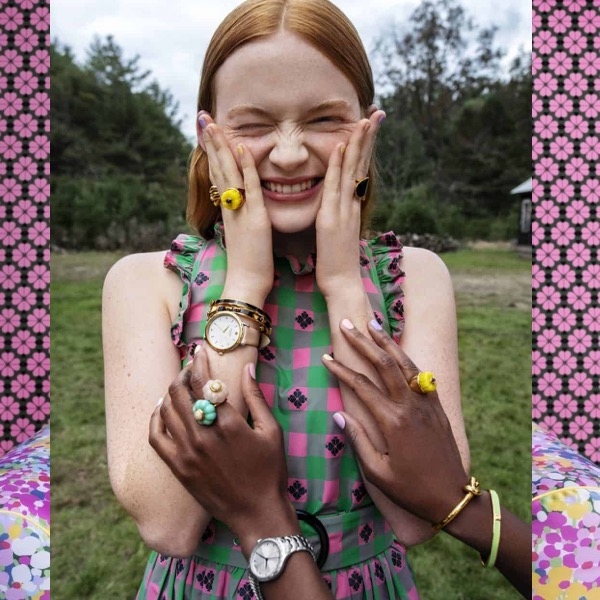 If you're a fan of the Kate Spade colourful handbags and joyful style rejoice; we have now a Kate Spade New York retail store in Munich.
It is the first Kate Spade store in Germany, and it was launched with a big cocktail party hosted by the brand's CEO, Anna Bakst, and by Man Repeller's Leandra Medine. The opening was at the luxurious shop decorated with lush velvet, marble and Kate Spade new signature pink wallpaper with rose-gold stripes, which looked fabulous against the pink, gold and green handbags from the latest collection.
Many of the famous faces at the launch were dressed head-to-toe in colourful Kate Spade outfits.
Netti Weber arrived in the Spring 2019 "Geosquared dress" in lilac, a light violet trench coat from the men's collection and pink Coco Rococo shoes. Leandra Medine was wearing a beautiful red belted dress and fuchsia sandals from the Summer 2019 collection, and Mandy Bork wore a flutter sleeve tweed dress and lilac boots from the Spring 2019 collection.
Now under creative director Nicola Glass, Kate Spade has a new retail vision, which was unveiled at the  launch of the Munich store. Glass said: "Our brand and everything we make is a celebration of women, their personal style, their confidence and realness."
To celebrate her first collection for Kate Spade, Nicola Glass teamed up with photographer Tim Walker, who shot for the brand from 1999 to 2006. He created beautiful images for the Spring 2019 campaign, as playful as the brand itself.
Since its beginning in the '90s, the American label has been a hit and its colourful handbags; the first big designer purchase young women make at the start of their professional lives. A Kate Spade bag has in America, almost the same luxury status as a Chanel bag in Europe, but is it more attainable, of course, and much cuter and fun too. 
In Europe, Kate Spade New York has stores in London, Scotland, Paris and Norway, so we are delighted to have the new Munich shop.
Image from the Kate Spade Spring '19 campaign shot by Tim Walker. Photo courtesy of Kate Spade New York