Dior Cruise 2023 in Seville: an ode to Spanish culture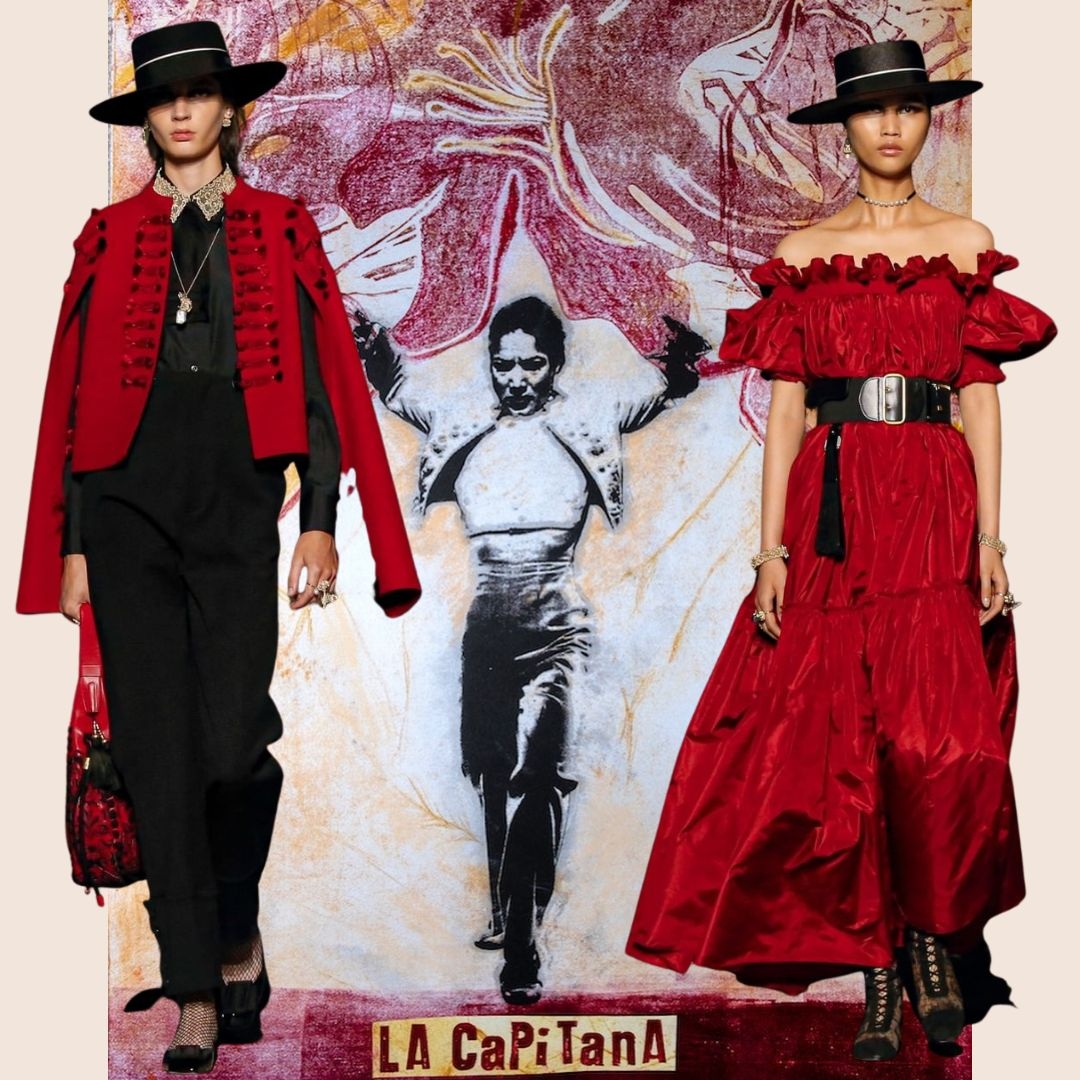 Maria Grazia Chiuri wrote a love letter to Spanish history and culture by presenting in Seville the Dior Cruise 2023 collection inspired by the flamenco dancer Carmen Amaya, AKA La Capitana. Most precisely, the creative director of the French luxury house chose the famous Plaza de España as the runway. And the fabulous baroque square was indeed the perfect set, complementing to perfection the Dior Cruise show, which opened with the hypnotic foot-stomping of two flamenco dancers dressed in black, accompanied by an orchestra and 60 dancers in voluminous red dresses. The breathtaking performance continued while models presented the equally spectacular collection.
La Capitana and Dior 2023 Cruise Collection
Carmen Amaya revolutionized the flamenco world that inspired fashion designers like Cristobal Balenciaga and now, Maria Grazia Chiuri. The Spanish woman was the first to combine ultra-feminine gestures with the wildly fast and intense footwork previously reserved for male dancers.
The pioneering dancer performed in ruffled dresses but also in masculine high-waisted trousers and jackets. In the same vein, the Cruise collection combined in Seville the strength and fragility of La Capitana, whom, Dior explains, "is capable of depicting the soul of Spain and reinterpreting a conscious feminine idea that is feminism".
The collection
Indeed, the Dior Cruise 2023 collection is an ode to historic Spanish fashion and Seville's craftsmanship. The models walked along the centuries-old square black, red, beige, and gold looks that paid homage to Andalusia. They wore romantic lace-embroidered dresses and equestrian-inspired slim trousers with embellished waistcoats. Ridding boots and wide-brimmed hats completed the Sevillian horsemen-inspired looks. And the off-the-shoulder frilled dresses in the best Latin-women style came layered with bold leather accessories.
Local artisans brought Spanish craftsmanship to the collection. For example, the Jesus Rosado atelier added Seville's artistic embroidery embellishing Dior Cruise with gold needlework. Likewise, María José Sanchez Espinar embroidered the typically Sevillian manila shawls. Also, the Seville-based leatherworker Javier Menacho Guisado added leather embroidery to Dior's saddle bags. Finally, Orfebreria Ramos, known for embellishing with gold and silver the Madonnas' dresses, made beautiful rose-themed jewellery worn by the models.
Title image by Notorious Mag, photos @dior.