Bang, Bang: How to Style Your Fringe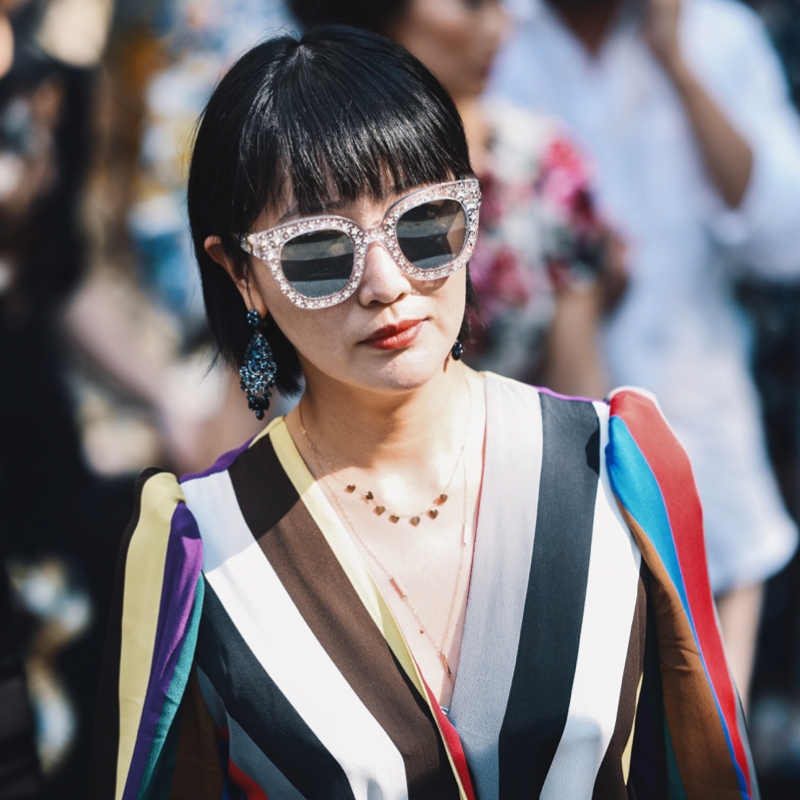 Put your finger down if you have cut a fringe during Coronavirus isolation. I know; you couldn't go to the hairdresser, you were bored and decided to try something new. And if you haven't done it, I bet you know someone who has. We've seen it on Instagram, from Bella Hadid to Nobel laureate Malala, everyone seems to be cutting their own #pandemicbangs, and next thing we know, bangs have become hotter than ever. Now, how do you style your fringe?
Regardless of your face shape or hair type, bangs are surprisingly flattering and versatile; keep scrolling to see how to style your fringe.
Fashion magazine editor
Short bob and bangs have been the signature style of Anna Wintour since she was 14, which proves the combo is totally stylish, ageless and timeless. Wear the '60s hairstyle with straight blowout bangs for an immaculate look like Wintour. Otherwise, part your fringe loosely to the sides for a more relaxed style. For fine hair, add a bit of volume with a volumising tonic and styling foam.
The French girl fringe
Get that je ne sais quoi French girls have by wearing layered bangs centre-parted in a messy manner. It is effortless and cool as Parisian girls do. Note that it looks grown out, and the sides are usually longer towards the cheekbones, like Brigitte Bardot, Jeanne Damas or Alexa Chung. This is the perfect non-committal hairstyle that you can easily change if you don't like it.
I-just-woke-up-like-that look
For a very natural style, wear curtain bangs parted in the middle with your hair down. If you have thin hair, you can use a lightweight mousse to give your mane more volume. Additionally, tousle your hair gently after drying it, for an effortless look.
Glamorous blowout
Elevate your outfit with an elegant blowout hairdo. Use a heat protection product before. As you blow-dry, comb your hair from underneath it with a large, round, vented brush. Do the same with the bangs but brush them also from the top of the hair if you don't want to much volume. Finish the look with a high-shine serum.
Straight fringe with ponytail
Wear your straight fringe with a ponytail for a chic, polished look. And to give your hairdo a cooler vibe, pull the front sections looser from the ponytail.
Face-framing bangs with a bun
This is a great do for summer when you don't want to wear your hair down the neck. You can either do a tidy bun or a messy one by twisting your hair and wrapping it around to create the bun. Part your fringe to the sides carelessly for an easy and youthful look.
Straight fringe with high bun
Similar to the previous look, but the higher bun gives your hairdo a more modern and fun style. Works well with all types of fringes, especially a thick straight one. Alternatively, you can wear a with a half-up, half-down bun.
Curly hair bangs
Curly-haired women don't need to stay away from the fringe trend. On the contrary; a long curly fringe looks fantastic. Use a curl-defining mousse, and blow-dry with a diffuser while scrunching your hair. Finally, finish with a little anti-frizz styling spray. You can wear your hair down or in a ponytail tied with a silk scarf for a stylish look.
Micro-fringe for an edgy look
Although quite risky, the super short fringe looks modern and playful. It suits best women with smaller faces and looks super cute combined with a short bob. Style your vintage fringe with headbands. Remember that to keep your fringe short you will need to visit the hairdresser for regular upkeep.
By the way, if you still haven't joined the fringe trend, here are the top 10 hairdressers in Vienna where you can get your bangs.
Fashion Week street style photos via Shutterstock.