White shirts for Spring 2023 – Check the new shapes and silhouettes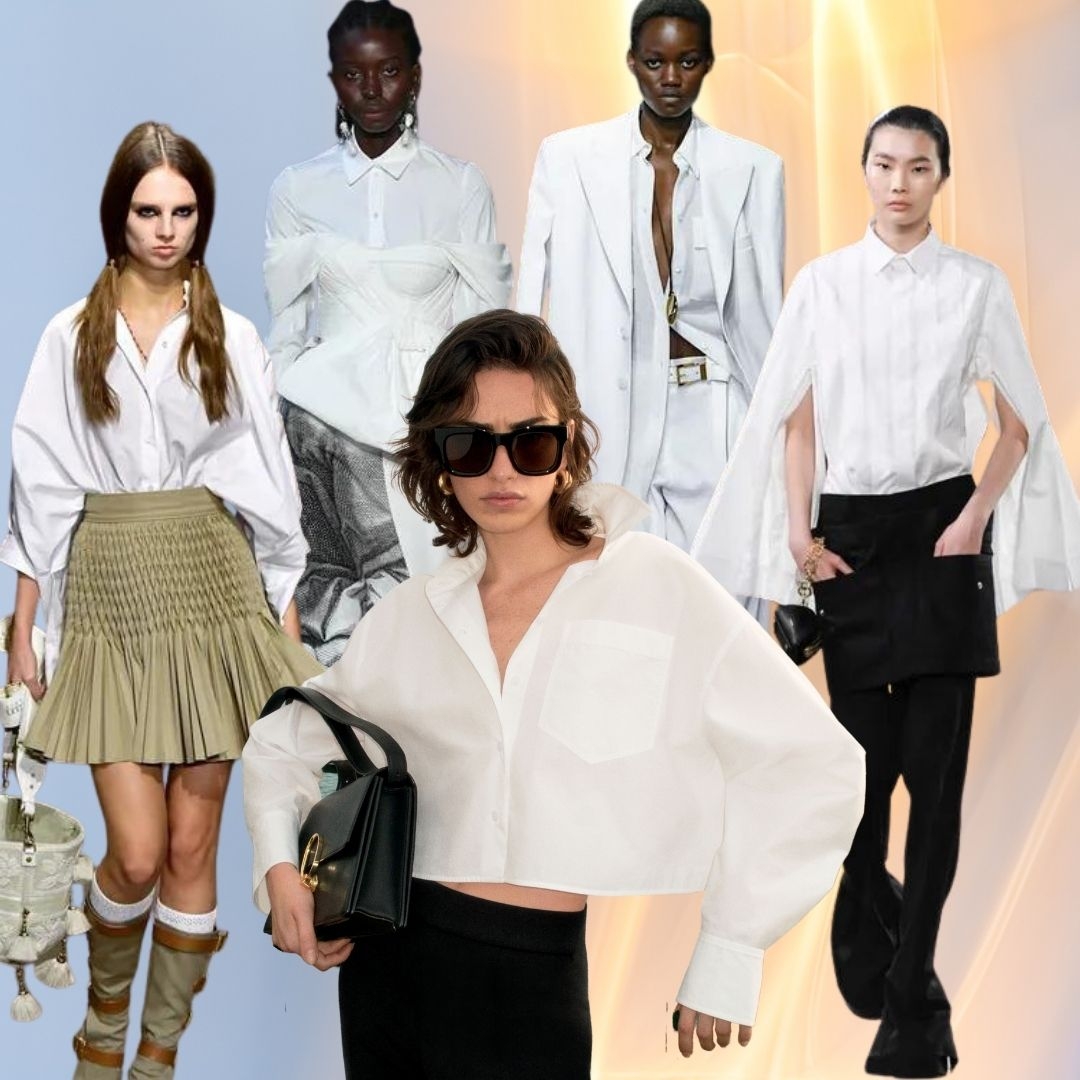 Few pieces are as essential to a timeless wardrobe as the classic white shirt. This staple item elevates any outfit and is always at the top of the capsule wardrobe list. Even so, when a new season rolls around, we all want something fresh for our closets. We crave a white cotton blouse that's crisp, updated, and on-trend. So, what are the new white shirts for Spring 2023?
This article does not use any affiliate links. The products we offer are chosen independently and Notorious-Mag does not earn any commission for them.
Shapes and silhouettes of white shirts for Spring 2023
The Spring/Summer 2023 collections bring with them different shapes and silhouettes for the white shirt. From puff sleeves and corset shapes to classic shirts borrowed from the men's wardrobe. Christian Dior, Ralph Lauren, Carolina Herrera, and Sacai played with sleeves, exaggerating the size and cut.
Gauchere, Stella McCartney, Michael Kors, and Jil Sander explored the oversized, tailored masculine silhouette. Therefore, the white shirts for Spring 2023 can be worn to create a relaxed office look and also a chic and sexy evening look at the same time.
How to update the white shirt you already have in your wardrobe
The trendiest way to wear your white shirt, without having to buy a new one, is to wear it open with a white tank top underneath, as seen on Instagram.
Another look we love is the combination of a men's white shirt with white pants, as seen on Courteney Cox in her interview for How To Spend It, from the Financial Times.
The white shirt and jeans combination gains a new lease of life if you tuck it in and button it up to create a deep neckline.
To create a chic and sexy evening outfit, choose a white shirt made of satin or silk. Or go for oversized details like puff sleeves to create a statement silhouette.
Accessories are essential for giving new life to your old white shirt. Remember that silver jewellery is on-trend for Spring 2023. Wear your shirt with jeans and pair the look with ballet flats. Layer over a trench coat or tweed to create a heritage look.
The white shirts for Spring 2023 can be worn with jeans, cargo pants, and tailored pants. But as suggested by Valentino, Fendi, Christian Dior and Erdem, the white shirt is the perfect match for voluminous or slim skirts.
Here are some suggestions to help you choose the white shirt version 2023
If you're looking for an oversized white shirt, we love this model from COS. The satin shirt from Vince is super versatile and sexy. This one from Sézane is just perfect. And the one with cape sleeves from Zara is an elevated basic that can be worn to work and for going out. If you are like us and love vintage, the selection of white shirts from Reese is for you; Givenchy