A chat with ECCO's Creative Director Liam Maher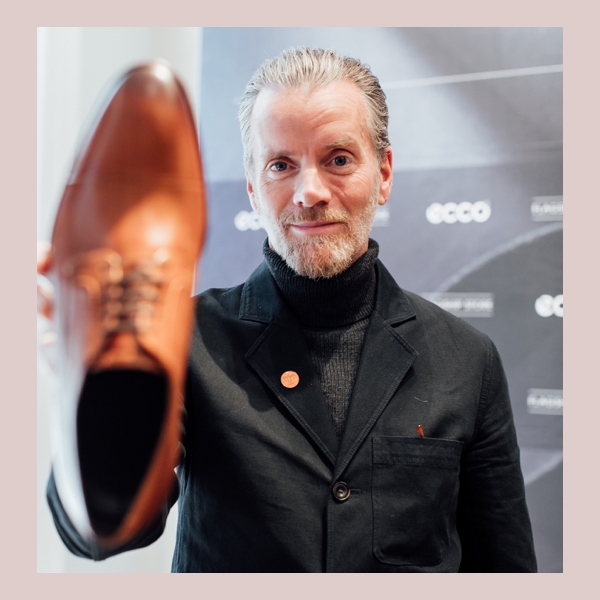 Last week we went to Zurich for a special occasion. ECCO Shoes invited us over to a gentleman's evening to celebrate ECCO VITRUS™ MONDIAL, Ecco's first formal shoe collection.  The breakthrough collection combines sleek design with lightweight comfort innovation. During the presentation,  we took the opportunity to ask the Creative Director, Liam Maher, about what it takes to be a real gentleman, his career and of course, about the new collection.
Before starting joining the ECCO team as Creative Director, you worked for companies such as Denham the Jeanmaker and Burton Snowboards. What's your full background and how did your love for leather and shoes develop?
I am 55 years old, so where should I start!? I went to public school in America but, to my parent's disappointment, left early to work as a theatre technician. One theatre where I worked was next to the Minneapolis College of Art and Design, and I used to spend a lot of time on the campus checking out what the art students were doing. One thing led to another, and I ended up at the Massachusetts College of Art where I created a streetwear collection. This was received pretty well and sold in stores around Boston, eventually catching the attention of a local department store where I was  later hired as a visual merchandiser. From there I was recruited by Timberland, which constituted my formal introduction to the footwear industry.
Liam Maher, ECCO's Creative Director
Does an Art School background influence your work as a Creative Director?
That's a great question. I majored in fine-art/painting, but actually, I spent more time in making clothes. This was in the '80s when fashion was pretty outspoken. There were lots of surface prints and artistic graphics were often wrapped directly around the garments. But looking back I think studying art provided a good foundation in basic aesthetics. It helps you understand how visual impressions produce basic effects like lightness, heaviness, stillness, movement, etc – as well as different emotional tones. Aesthetics are obviously crucial to art direction. But a foundation in art can be even more important to understanding basic storytelling in various media.  As a Creative Director for ECCO,  I'm often working with our talented teams on how to tell our stories best.
Tonight you are celebrating the European launch of the Vitrus Mondial,  ECCO's latest development in formal men's shoes and, in some ways, ECCO's first true "European Dress" range. What took so long?
As we presented at the launch earlier today, ECCO has leveraged FluidformTM direct comfort technology to  produce men's formal shoes for a long time. But harnessing our FluidformTM process within the very slender, low-profile and truly elegant silhouette of an authentic European Dress style formal shoe has represented a technical challenge. But ECCO's design and R&D teams have been pushing and progressing our technology steadily for decades. Recent advancements within both the high-tech end of our process as well as in the area of premium leathercraft helped set the stage for the new Vitrus Mondial. With the Mondial we now feel like we've delivered a really unique blend of classical refinement and cutting-edge comfort innovation in a European Dress shoe.
 Vitrus Mondial, new Liam Maher collection
How do you tell the story of ECCO in times of digitization?
This is an area of real focus for the teams at ECCO. It helps to have a clear and distinctive brand concept, which we feel we have. We believe if you combine craftsmanship and high-tech processes, you can create a new sense of comfort in motion. We are also very interested in the individual journeys people take in our shoes. We love to tell their stories, so we are spending more time in this area,  learning more about the individuals engaged with our brand and finding ways to share their unique journeys. This helps us to humanize the brand and reflect its authentic emotional character in a straightforward way. The processes around shoemaking can be quite dry and technical sometimes, so it's a beautiful thing to explore the journeys people are taking in ECCO shoes as well.
How would you describe a gentleman?
I hope this will appear in the story because it's my favourite subject! For me, men of character are defined by; where they come from, where they belong, and of where they hope to go.
For me, a gentleman is someone who is true to himself and manifests an honest blend of these three elements – his past, present and future. In fact, maybe you could describe ECCO shoes along these lines as well.
Models during ECCO's presentation, posting on Instagram.  
What fascinates you the most about working in fashion?
For me, I guess it's the relationship between a person's style and a person's identity. Footwear and clothing can reinforce a person's character – including  aspects of where they come from, where they belong, and where they hope to go. Of course fashion can also inspire one to project one's "best self" as you suit up each morning and prepare to face the day. For me it's endlessly fascinating how elements of footwear, clothing, aesthetics, culture, and technology intertwine and complement each other within a person's individual style. We sell a lot of shoes at ECCO, but we sell every single pair to an individual, and that's what I like.
Online Shopping is bigger than ever – how do you still manage to bring people to the stores?
Somebody on my LinkedIn feed posted a quote that read; " Retail is not dead. Boring retail is dead".  If you want to entice people into a store, you've got a duty to offer an experience; otherwise, it's going to be pretty tricky. We're very aware that our retail experience must represent more than a space with a variety of shoes to choose from. Our staff needs to advocate what we are doing, we need to make human connections and we need the truth of our brand to come to life in our stores. The design and interior of the stores need to be comfortable and engaging and we're putting a lot of effort into enhancing our brick and mortar as I hope folks can see from this new Zurich Flagship where we launched the Vitrus Mondial today.
Society and the Media still sometimes characterize shoe-fashion as a predominantly women's topic. How do you work with that stereotype?
That's true; people still characterize footwear this way and statistic do indicate that women tend to buy more shoes then men. Despite knowing the stats, I've always had trouble relating to them since I am a guy who probably owned a hundred pairs of shoes even before I started working at ECCO.  But maybe things are evolving. Sneaker culture has certainly turned the tables a bit. I think of the cliché of the sneaker fanatic whose girlfriend teases him about how many pairs he collects. Perhaps it will equal out at some point.
If you had the chance to meet a famous shoemaker from the past, who would it be?
Besides ECCO's founder, Karl Toosbuby who I did not get the chance to meet – I'd have been curious to meet Salvatore Ferragamo. The Ferragamo Museum in Florence celebrates such a funny combination of fairytales and shoe-obsession, and that's also very inspiring.
A piece of expert advice for the gentlemen of tomorrow?
I think it's a combination of really being true to yourself and understanding what dignity is all about, and of course, having a sense of sympathy, grace and politeness.
What's your personal favourite go-to outfit?
I am a big fan of derby shoes, flat-font trousers and three-button blazers. Basically, exactly what I am wearing today, so no surprise there I guess :).
ECCO's formal men's collection in the streets of Zurich 
It was a great pleasure to get to know Liam Maher. Hope you liked his interview!