5 AW 20/21 trends emerged from Milan Fashion Week 
To guide your future shopping.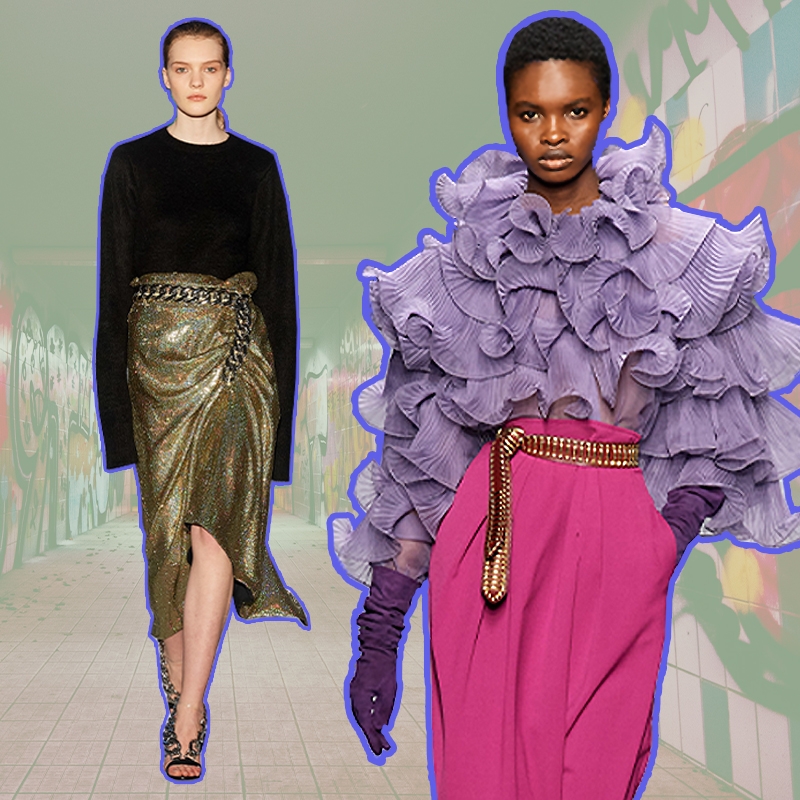 We were at Milan Fashion Week and spotted these five AW 20/21 trends you should know about now, to keep your wardrobe updated. In fact, knowing what we'll be wearing in Fall/Winter 2020-2021 will help you shop cleverly, with an eye on fall. Additionally, it will help you see which items you should let go, to make space in your wardrobe for the beautiful new looks.
The Italian fashion capital presented, as usual, elegant separates, fantastic knitwear and feminine silhouettes, perfect for the chic Milanese women. Besides stylish, the AW 20/21 trends will be a bit edgier and modern.
So here are the five trends that emerged from MFW.
If you purchase something through the links in this post, Notorious-mag will get a commission.
Skirt suit
After several seasons of power suits, FW 20/21 will be all about skirt suits. As a matter of fact, we saw feminine, tailored jackets with pencil skirts at Prada and Agnona. The elegant duo is a great office outfit that empowers women while being very feminine. Choose belted jackets for extra fashion points.
Knitted dress
The long knitted dresses that Agnona and Bottega Veneta presented on the catwalk are sleek and minimalist. Therefore, they reminded us of the sophisticated style icon Carolyn Bessette-Kennedy in the early '90s.
Fringes
We had already fringes last year, but in 2020, they come extra-long and are everywhere. In other words, from evening dresses to skirt suits and handbags, you will be swashing around the XXL fringes while you walk like the diva you are. Alberta Ferretti, Prada and Bottega Veneta were among the fashion houses that embellished the runway looks with the incredibly long tassels.
Metallic and black
Gold skirts and pants come combined with black to add an edge to the metallic garments. For example, Alberta Ferretti used lamé shimmer to embellish a black mini dress and jumpsuit while No.21 and Ferragamo paired gold skirts with plain black tops to dress down the metallic looks, bringing them to daywear.
Ruffles
Alberta Ferretti presented waves of plissé ruffles in fuchsia, lilac and cobalt blue. Her dreamy dresses and tops are totally red carpet-worthy. Similarly, Alessandro Michele embellished a long black skirt with voluminous undulating ruffles for Gucci. Besides, he combined the whimsical skirt with a grunge-style sleeveless shirt to add some edge. In short, among the AW 20-21 trends, the plissé ruffles trend gives chicness to any look in an instant.
By the way, we saw at MFW the last Prada collection designed solely by Miuccia Prada. To know why; read Raf Simons and Prada together.