10 denim trends you can't avoid this Fall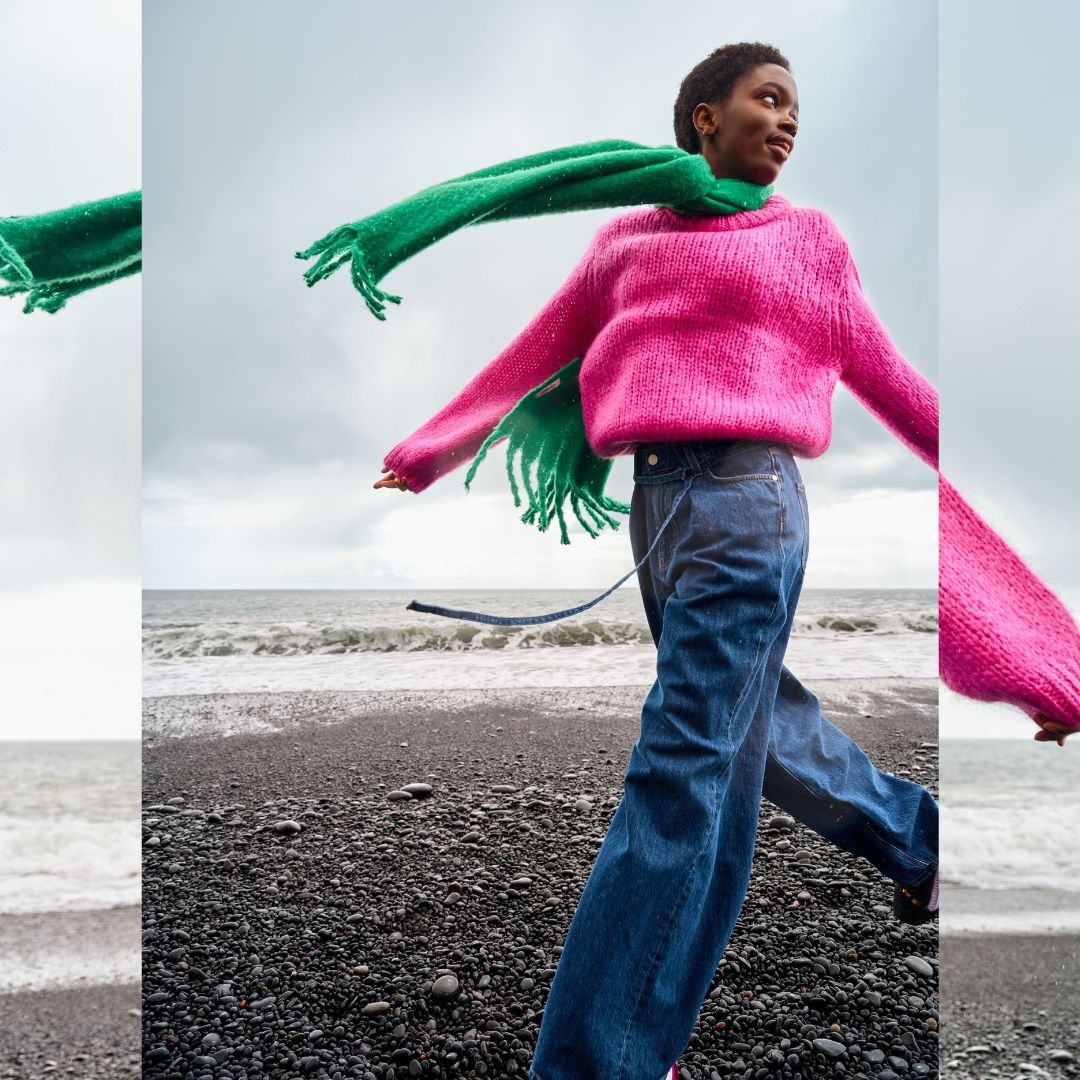 Every year as the days get shorter, and it requires more than just a thin scarf to not be cold, we are looking forward to going back to good, old denim. The transition to the cozy season is just perfect to go around in our favourite uniform. It means, denim on the top, denim at the bottom, double denim everywhere. As we have already said in some articles ago, Fall 2022 trends are generous with denim lovers. That's why we've rounded up 10 denim trends for you to update your wardrobe. Expect to see Y2K-inspired looks, light blue and dark washes, 90s grunge, vintage flair, and remember that wide-legs are still at the top of every trend forecast.
Our editors select independently all products featured on Notorious-mag. However, when you buy through our links, we may get a commission.
1. Go Pink
Colored Jeans are fun not only in summer. Copenhagen Fashion Week showed us that the only shade you need in fall is pink. Probably inspired by Barbie, the movie, the designers are proposing top and bottom in pink denim. From the 10 denim trends this Fall, pink is the newest.
2. Oversized denim jackets
The denim jacket is a staple in any wardrobe. But this autumn, the denim jacket has been given a new shape. It's bigger, wider and longer. Isabel Marant's jacket is cut with shoulder pads typical of the 90s. And the SEA dream piece looks like a find from a vintage shop.
3. The Denim Maxi Skirt
Super mini skirts are a all-year hot trend in 2022. But when it comes to denim, you have to look closely at maxi skirts. More Y2K than that, only Britney Spear's notorious carpet moment with Justin Timberlake in 2001.
4. Accessories in denim
Denim has won in the accessories category. Consider that the fabric is ideal for the transitional season. Isabel Marant's cap protects you from the cold wind without looking like a heavy winter hat. Bella Freud's waistcoat is ideal for layering. And we love denim on luxury handbags, it seems like a contradiction, but that's what makes it interesting.
5- Straigh legs
Another year that no designer decided to revive skinny jeans. Instead, the straight leg with high rise is your go-to pair of jeans, with eternal good style effect.
6- Double Denim
Denim with denim is the best formula you can have in your wardrobe when you have no idea what to wear. But this autumn, fashion brands have created looks beyond the shirt & jeans duo. We fell in love with the denim suit from Bite Studio, a Swedish-English sustainable luxury brand. And the denim set from Australian label Ksubi is what you're going to see on your favourite celebrity this fall 22.
7- Baggy low-rise jeans
Of the 10 denim trends we listed here, low waist jeans is the one that most divides opinions, you either love it or hate it. But the look is still hot this fall, especially since the trousers come with a loose-fitting cut, and comfort is what we all want.
8- Cargo jeans
As we mentioned in this article on Cargo trousers, this year the trousers are the most innovative pieces of the season. And you will see utility trousers in different materials and cuts, from oversized to sleek cuts. And, according to what we've seen on Instagram, the denim version of cargo trousers is already the fashion crowd's favourite pants.
9- Dark wash
Esse jeans in inky dyes, dark washy ou mesmo preto, você precisa ter no eu guarda roupa. É a cor de denim que eu mais gosto para o outono. E se você quer adicionar um toque de it-girl francesa, combine o seu black jeans com um clássico pullover azul marinho e ballerinas. Essa combinação não pode ser mais chic ou Rive-Droite.
10- Barrel jeans
These jeans are the newest cut this season. It combines the comfort of wide-leg jeans, but without the wide-leg finish. You should try a pair of barrel jeans, to see that they fit all body types. And you can style these jeans with loafers or sneakers, but also boots and pumps.
Image courtesy Peek & Cloppenbrug- model wearing Selected Femme pullover, Codello foulard and Marc O'Polo jeans